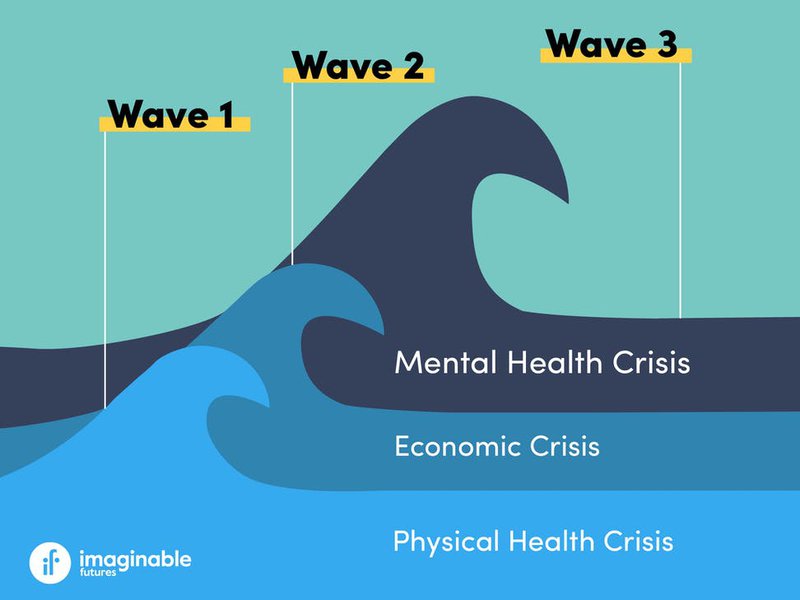 This op/ed was originally published in EdSurge.
Michael Phelps is hardly alone as COVID-19 has caused most parents to struggle with new realities. Some question what the future will bring and wonder if loved ones are safe. Others are coping with the loss of close ones, unemployment, and lack of food or housing. Meanwhile, our littlest learners are currently deprived of social interactions, sequestered to playing inside, and relegated to growing screen time (if they have access to technology at all).
We're approaching the end of May, which is National Mental Health Awareness month. But the mental health crisis is looming on the horizon.
The first wave of the crisis affected physical health, the second wave is economic. Now comes the third wave—mental health—and our system is ill-prepared.
Prior disasters have triggered rising mental health challenges and greater inequities, especially among young children. Given that mental well-being is a core pillar of effective learning, we feel an even greater sense of urgency regarding the need for investments in mental health solutions.
Disasters Breed Trauma
Evidence suggests that isolation drives trauma. A 2013 meta-study of health-related disasters found that isolation or quarantine can be traumatizing, with 25 percent of isolated or quarantined children and adults experiencing post-traumatic stress disorder.
Moreover, disasters can lead to long-term mental health challenges. After Hurricane Katrina, nearly half of the parents surveyed reported an increase in their child's emotional or behavioral difficulties. As the intensity of exposure to the hurricane increased, PTSD symptoms worsened. Three years later, researchers found 28 percent still exhibited chronic dysfunction, with greater impact among those with prior instability and lower family or community support during and after the event.
The mental well-being of parents and caregivers directly impacts their child's well-being. A study of how children fared after the 9/11 attacks found that disaster-related maternal psychological problems had a stronger impact on preschool children than children's direct exposure.
Alarming Early COVID-19 Data
Before the pandemic, mental health issues were already prevalent. Nearly half of children are estimated to have experienced at least one Adverse Childhood Experience, and a quarter of early-childhood educators had reported clinically significant levels of depression. Unfortunately, COVID-19 may exacerbate existing challenges.
Early data so far are alarming. According to a March 2020 survey by the University of Oregon, 68 percent of parents and caregivers reported an increase in stress, and 33 percent reported an increase in their child's fussiness or disruptive behavior. In an April 2020 Yale survey that asked 5,000 teachers to describe their emotions, the top five responses included: anxious, fearful, worried, overwhelmed and sad.