As we collectively work to realize The Future We Imagine, we need to actively be thinking about what it will take to get us there. In the coming months, we will be hosting a series of virtual fireside chats to explore different themes to realize brighter, healthier and more equitable futures for learners and their families and communities.
Each fireside chat will bring together a diverse mix of partners for an intimate conversation with insights, learnings and steps to bring to life transformative solutions for learners. Join us as we dive in from both a global and local perspective.
Upcoming Event: Unpacking the Creation and Impact of Equitable Learning Environments
For communities to thrive, creating learning environments where learners feel seen, heard, valued and validated is foundational. So, how can we support the creation of equitable learning environments that enable all learners to own their story and cultivate a positive self-identity?
On March 21, Imaginable Futures will kick off the fireside chat series with leaders from Brazil, Kenya and the US who are actively working to develop diverse community leaders, strengthen community networks and build inclusive learning environments. Join us as we explore what it looks like to create a supportive learning environment and the role that we can all play in getting there.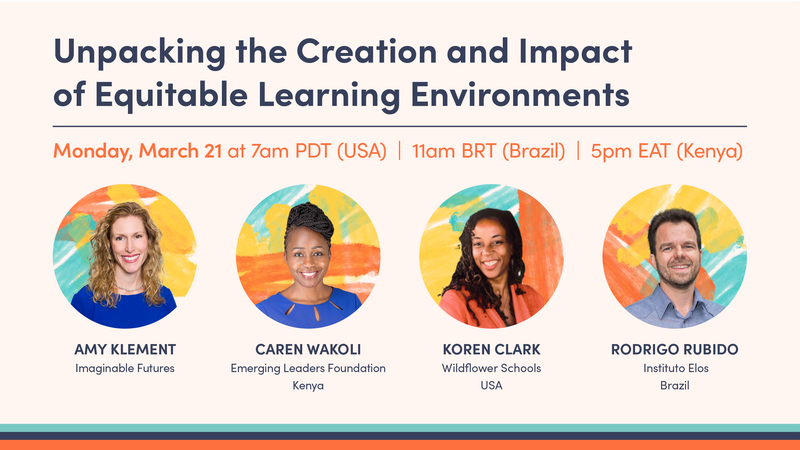 Featured Guests


Amy Klement, Managing Partner of Imaginable Futures (moderator)
Caren Wakoli, Founder and Executive Director of Emerging Leadership Foundation
Koren Clark, Partner of Wildflower Schools
Rodrigo Rubido, Co-founder and Executive Director of Instituto Elos