The Intervention
Ubongo starts by targeting children ages 3-6, who may not have access to a formal learning environment, with "Akili and Me." By following the adventures of Akili and her group of friends, children (with the help of their caregivers) learn numeracy, pre-literacy, language skills, social/emotional learning and health. All programs are available in Kiswahili, English and Hausa, and will soon arrive in Kinyarwanda and Kikuyu.
By age 7, children graduate to Ubongo Kids. Also produced in Tanzania, this multiplatform program introduces increasingly advanced math, science, technology, engineering, life skills, and character development through the tales of Kibena, Kiduchu, Koba and Baraka as they use their brains to solve problems in Kokota village with the help of animals in the nearby forest. It's also available in a wide array of languages, including Kiswahili, English, French, Kinyarwanda, Kikuyu (pilot), Luo (pilot) and Hausa (in production).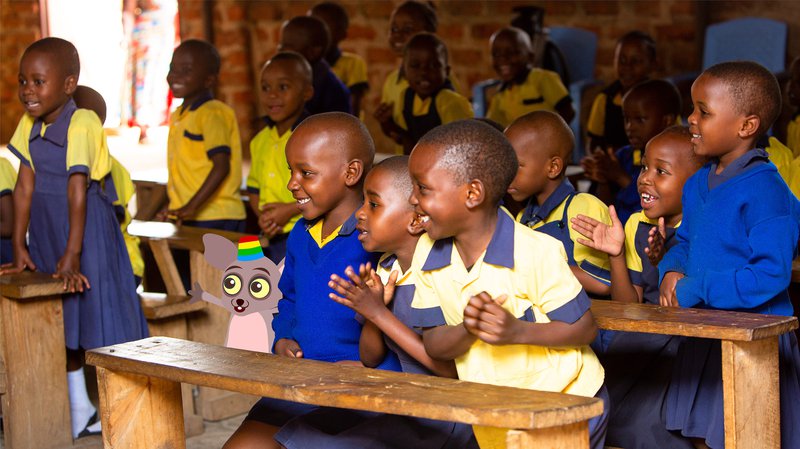 Evidence of Learning
Ubongo has plenty of fans. Its content reaches up to 6.4 million households each week in East Africa and 16.8 million unique users monthly. Through their two brands, Ubongo distributes to free-to-air broadcasts in 11 countries, including Kenya, Rwanda and Uganda. And the shows' positive messages seem to resonate with viewers. "My favorite character is Koba because he likes to learn and I can understand and learn through him," explains one boy from Morogoro, Tanzania. Pointing out that his teacher must tackle nine subjects, he also appreciates what Ubongo Kids adds to what he learns in school. "When we watch Ubongo Kids, we get a much clearer idea of the lesson being taught," he explains.
In fact, a study from the University of Maryland indicated that viewers of Ubongo have 12% higher cognitive development than control groups. Fans of the show also improved their drawing skills, shape knowledge, number recognition, counting and English skills. "I asked the class if anyone knew what decimals were," says one teacher in Njeula. "One student said he learned about decimals through watching Ubongo Kids. He was even able to demonstrate how to do different operations using decimals on the board for the rest of the kids."
Igniting Lifelong Learning
At Imaginable Futures, we are deeply committed to unleashing human potential by igniting a lifelong love of learning at an early age. That's why we have proudly supported Ubongo since 2015, as it strives to equip Africa's next generation with the educational foundation, critical skills and positive mindsets to improve their lives and contribute to their communities.
By 2025, Ubongo aims to connect with over 60 million kids. The organization will expand to free-to-air channels in new countries, such as DR Congo and Cote d'Ivoire, as well as increase its presence on YouTube and other mobile applications. Their overarching goal: Every child in Africa will be like baby Shai — a clever and curious "little man."