Editor's Note: Since 2009, Omidyar Network has supported more than 90 education partners across Africa, India, Latin America, and the United States. One of its focus areas is equitable ed-tech. Today, Omidyar Network's Eliza Erikson and Erin Simmons discuss how countries can learn from each other at the systems level in delivering equitable ed-tech. You can read more about their lessons learned in their new report, "Scaling Access & Impact: Realizing the Power of EdTech."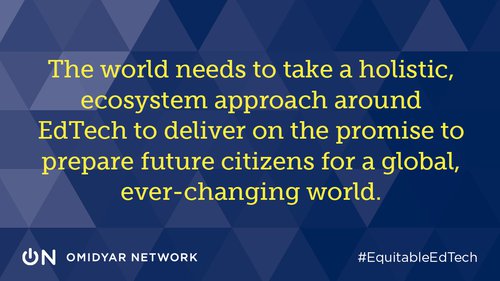 In countries around the world, technology is playing an increasingly important role in education systems, schools, and at home. For instance, in Chile, teachers are trying out tablet-based software to help learners with disabilities thrive. Chinese parents eagerly spend their money on mobile apps that virtually connect their children to quality tutors across the country. In Indonesia, students use their phones to learn just as much as they use them to connect with friends. Meanwhile in the U.S., laptops are as common a sight in classrooms as paper and pencil.
But as any teacher or parent can tell you, technology cannot solve all of the problems plaguing education. There are 250 million learners around the world who have finished their schooling but still can't read or write and who lack the future-ready skills to succeed in school and life.
However, we believe that education technology (or ed-tech, as the space is known) has strategic advantages that help level the playing field for a range of learners whom the current system neglects. But for countries and schools to unlock such advantages, there needs to be a robust ecosystem in place dedicated to what we call equitable ed-tech—using technology to improve education for all children, regardless of income or location.
How to build a robust ecosystem?
That question was at the heart of Omidyar Network's new report, Scaling Access & Impact: Realizing the Power of EdTech. Working with RTI International, researchers dug deep into how four countries (Chile, China, Indonesia, and the U.S.) have built the technology infrastructure and ecosystem capacity needed to activate the power of ed-tech. The goal was to highlight what worked best in each country to build a model that other countries could use to help make equitable ed-tech a tool for improving education.
Through interviews with more than 100 teachers, school administrators, policymakers, philanthropists, and ed-tech entrepreneurs, we found that while each country was very different, common threads were necessary to weave together an ed-tech ecosystem that is both scalable and sustainable. It's not enough to serve one classroom of children; ed-tech must help students across a wide variety of schools.
And it's not enough to put computers in the classroom and leave. There must be investments in leadership and teacher training, as well as alignment of vision and efforts across multiple sectors. Any effort has to grow and be sustainable over the long run.
Key drivers can scale and sustain the ecosystem.
When we talk about ecosystems in this context, we're talking about the multiple actors—including government bodies, educators, innovators, investors, and philanthropies—that need to align to create an environment where equitable ed-tech can thrive.
We found that the key drivers to create such an ecosystem are:
A vibrant marketplace for education innovations and ed-tech entrepreneurs
A technology infrastructure to support the distribution and use of ed-tech
A bold ed-tech policy that is backed by legislation and fair funding
Committed leaders and educators at every level who have the skill and passion to bring this vision to life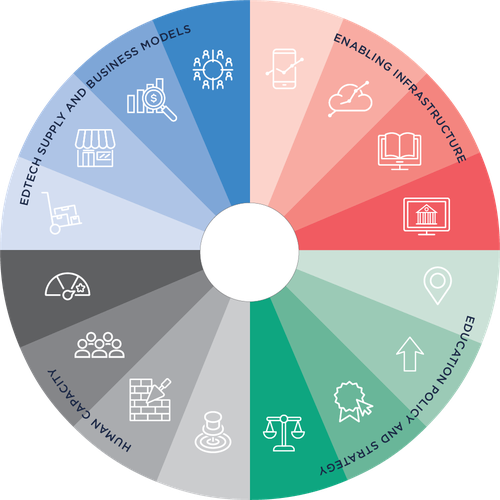 These key drivers work best when they work together.
In Indonesia, for example, strong investment in country-wide mobile technology infrastructure not only connected millions of consumers to the internet, it also provided a cost-efficient distribution channel well suited for ed-tech entrepreneurs. In the U.S., cross-sector coalitions, advocacy groups, and think tanks were able to build upstream capacity, paving the way for successful implementation of federal legislation and funding for ed-tech.
Within the four broad categories, there are specific components that will help countries succeed. For example, when it comes to building viable business models for ed-tech entrepreneurs, there has to be a simple way for users to select products that meet their needs. To enable a strong infrastructure, a country needs universal access to the internet and affordable, reliable school-specific networks. To align the ecosystem, the government needs to document a bold vision in policy.
Not every country is going to excel at each of the 16 points. In fact, none of the countries we studied did. Chile, for example, falls short in available private capital for new business ventures. In China, there is still a huge discrepancy between technology use in the cities versus in rural areas. In all four of the countries we studied, no one had great success building platforms to help users know which technology products are the most effective.
Models can inspire action and encourage collaboration.
But the model can help guide countries as they build out their ed-tech ecosystems by suggesting ways to get started and activate partners. By bringing disparate players together with a common understanding of what the ecosystem is hoping to accomplish, policymakers, entrepreneurs, and educators will be better positioned to create equitable ed-tech that will help students across the education spectrum.
Ed-tech has the exciting potential to transform learning experiences for students in every corner of the globe. We encourage countries to take a holistic, ecosystem approach to deliver on the promise to prepare future citizens for a global, ever-changing society.   
For more information on this report or to gain access to future reports in the series, please email EdTech@omidyar.com.
Follow Heather, the Center for Global Education, and Omidyar Network on Twitter.
Images used with permission of the Omidyar Network.