Isabelle Hau, a former investment banker at Morgan Stanley (where I originally met her more than a decade ago), now serves as the investment partner for US Education at Omidyar Network. She joined me to discuss a recent report showing the importance of educational intervention at a remarkably early age.
Beginning at 18 months, researchers can identify vocabulary differences in children raised by parents with a college education compared with those who are not. By age five, when children start kindergarten, the difference can be almost too great to overcome.
Children who are not reading and speaking on grade level by the third grade are shown to face greater challenges throughout their lives.
Hau sees an opportunity to invest in children before they start school to level the playing field and give every child an equal opportunity at success in life.
Interview with Isabelle Hau, the Investment Partner, US Education Lead of Omidyar Network.
The following is the pre-interview with Isabelle Hau. Be sure to watch the recorded interview above.
How are you personally affected by Early childhood education?
Twenty years ago, I immigrated to the United States from France.  My access to a quality, public education from a very young age has been transformational. In addition to being raised by a loving family, I was enrolled when three months old into a childcare setting subsided by the hospital where my dad worked. Following, I attended a free, full-time public preschool starting at age 2 ½.  Through these affordable and high-quality programs, I learned not early literacy and early maths, but more importantly all the social-emotional learning skills that have helped navigate my personal and professional journey through guided or unstructured play – creativity, collaboration and conflict resolution, communication, self-control, etc. As a result, I am passionate about early education being one of the most powerful means of creating opportunities for each and every child regardless of gender, race or zip code- "an equalizer from the start of life."  
What is your take on Early childhood education?
The problem. In the US, more than 50% of children of low-income backgrounds are not fully prepared when they enter school. Based on various evidence, a child who starts behind is, unfortunately, more likely to stay behind.  

For example, a child who enters kindergarten not fully prepared is 25% more likely not to finish high school and 60% more likely to skip college.
Investing in early childhood delivers one of the greatest societal returns, estimated to be 13% ROI by Nobel Prize Jim Heckman.  
However, the US spends 0.4% GDP on early childhood vs. 0.8% in average for OECD nations.  On the innovation side, there is an 8x gap between start-ups funded in K-12 vs. early childhood.

The time is now. Early childhood education is ripe for a meaningful paradigm shift from scarcity to possibility.

On the demand side, we are at a tipping point with more proof, public awareness, and research about the critical years of early childhood which is propelling demand for more solutions for our youngest learners.

There has been an 18% increase in public spending over the past two years in early childhood.  And more is coming. We now have 18 new elected Governors who have early childhood on their agenda. In California alone, Governor Newsom recently proposed a $1.8Bn budget focused on early childhood.
Parents are now 90% GenY (millennials) and GenZ. They are hyperconnected, informed and social and increasingly expect on-demand parenting information and services, as well as social media interactions. Parents, at least those who have the means, are investing increasing resources in early childhood.
Employers are also increasingly paying attention. Seventy percent of working parents are reported to say that access to quality and affordable childcare would have a positive effect on jobs and the economy.  As an example, Starbucks announced in late 2018 a subsidized back-up childcare offering for all of its employees.
On the supply side, we need better, and sometimes new approaches to reach each and every child with quality affordable solutions for all.
Encouragingly, new talent is entering the early childhood field, and support for entrepreneurial and leadership talent continues to grow.
Omidyar Network is proud to have supported over 20 innovators in the field of early childhood – new platforms in home-based childcare, new ways to reach out to parents, models that reach to the most underserved children, new accelerator and incubator, etc.
We have also supported convenings and field-building activities in measurement and assessment, and bridge between academia/research and entrepreneurial activity. Yet we need more.

Get the Report: medium.com/positive-returns/big-ideas-little-learners-89ab1de95120
More about Omidyar Network:
Twitter: @omidyarnetwork
Facebook: facebook.com/OmidyarNetwork
Website: www.omidyar.com
Omidyar Network is a philanthropic investment firm that invests in and helps scale innovative organizations to catalyze economic and social change. Established in 2004 by eBay founder Pierre Omidyar and his wife Pam, the organization has committed more than $1.3 billion to for-profit companies and nonprofit organizations across multiple initiatives, including: Digital Identity, Education, Emerging Tech, Financial Inclusion, Governance & Citizen Engagement, and Property Rights. To learn more, visit www.omidyar.com, and follow on Twitter @omidyarnetwork #PositiveReturns.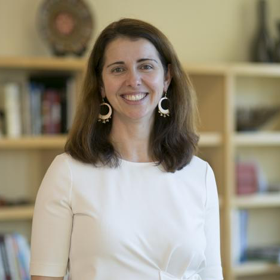 Isabelle Hau. Photo Credit: Omidyar Network
Isabelle Hau's bio:
Twitter: @volcoucou
Linkedin: linkedin.com/in/isabelle-hau-a57175/
Isabelle is an investment partner at Omidyar Network, where she leads the firm's US education work through an inter-generational approach, investing in quality learning opportunities for both young children and parents.

She has held board seats or observer/advisory committee roles with EdSurge, Ellevation, GeniusPlaza, Holberton School, Khan Academy Kids, Reach Capital, and Tinkergarten in US education, as well as d.light and dr.consulta outside of education.

She joined Omidyar Network in 2012 in investment management.  Previously, she was an executive director at Morgan Stanley, where she worked in venture capital investing in technology companies, and in investment banking.  She also worked at ImpactAssets, a non-profit organization focused on increasing capital flows in impact investing.

Isabelle earned an MBA from Harvard Business School and graduated from ESSEC and Sciences Po Paris. Isabelle was honored as 100 Harvard Business School Women in the Bay Area.