Undoing Racism in Philanthropy and Impact Investing: The STOPS Framework
We began our firm-wide commitment to JEDI by developing our "STOPS" framework: Self, Team, Our Network, Portfolio and Systems. Starting from the inside out, we have made plans to activate across all five domains. This framework helps us talk about our work and hold one another accountable. That said, it is not a prescription or a recipe and we know we won't always get it right. This is a forever journey where new issues and opportunities will arise today, change tomorrow and continue to evolve in the years to come. In a spirit of transparency and learning, we share the early steps we've taken with our STOPS framework as well as some of our struggles and puzzles.
We hope it inspires you to share back with us: What are we missing? What was key for you and your organization? Where are you struggling?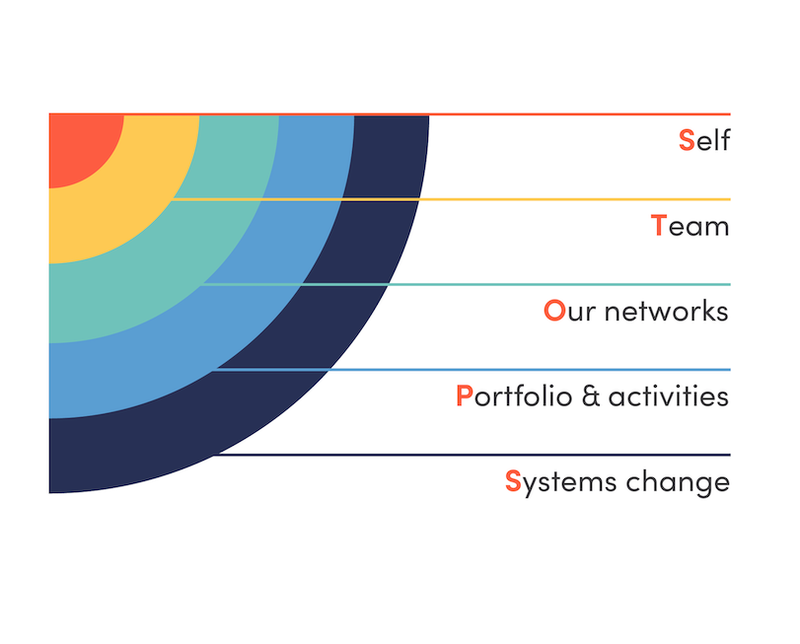 Self: We invested in a 9-month JEDI program with Camelback Ventures' Collaborative Capital group, which is designed to help decision makers holding capital, like us, understand how racism and other types of biases are interwoven in their identities and their work. This investment was out of the recognition that we, as a team from different countries, backgrounds and experiences, first have to do deep, internal self-work, looking into our identities and examining how white supremacy and colonialist culture perpetuates across our personal and interpersonal relationships, as well as our systems and practices at Imaginable Futures. We've learned that the work of bringing awareness to bias is a constant effort and takes both education and a deep commitment to being mindful and present. And, we grappled with… well… a lot. Deeply examining self, identity, one's history and biases illuminated both incredible assets and strengths as well as areas where we have been disconnected from ourselves as individuals and from humanity. This disconnection can be painful, but showing up for one another has been a source of great joy and trust-building.
Team: Beyond our work with Camelback, I (Desy), recently joined the team as the Head of People of Culture. Part of my role is to drive some of our internal JEDI work, which involves serving as a JEDI thought partner to our team (and our portfolio partners). I've challenged myself to constantly find ways for us to infuse JEDI into our culture, into our day to day activities. Also, as a learning organization, I spend a lot of time thinking about how we can learn along our JEDI journey. Since joining in October 2020, I have had the opportunity to partner with our hiring managers globally, where we infused JEDI practices at the core of this process, such as taking a critical eye to the customary education requirements that often exclude the very people that we say we want to hire. We're proud of the diversity and caliber of our team, and will continue to improve on recruiting talent that is representative of the global majority. One thing is clear: Doing this work as a global team is difficult: there are similarities around the world (white privilege) and there are significant differences in dominant cultures. We've had some challenging conversations to ensure that our work around JEDI is not rooted in an American frame — a key risk given our origins and leadership. We've learned that we enrich ourselves as individuals and as an organization when we each step into a place of vulnerability to share our stories with one another; and we've learned that when we approach recruiting through a JEDI lens, our team is strengthened in so many ways. It must be said that these actions did not happen overnight and are indeed still works in progress. Change can be difficult. Especially when we're trying to undo norms and processes that have been in place for so long. Like everyone else, we've had our challenges, and we remain committed to continuing the work.
Our Network: We know that networks are crucial for organizations and entrepreneurs, but existing networks often perpetuate privilege and wealth. We also know that too often Black and Brown-led organizations do not have the same social capital access as their white peers to networks of funders and partners. To address this, we've actively sought organizations led by BIPOC leaders and entrepreneurs. Currently, we're working across our geographies to determine how we can be more intentional, democratic and equitable in building our connections and sourcing for investment opportunities. We've learned that sourcing outside our network takes extra time and resources, yet the benefit and impact are invaluable. And, we've proven that the more we diversify our team and partners, the more quickly our networks expand and diversify.
Portfolio: We began the process of being more intentional about integrating JEDI, including new questions in our diligence process around diversity, inclusion and equity policies and experience. We've also begun partnering with organizations rooted in local communities and investing in solutions that center their approach around those who are most impacted by the issues, including learners, families, educators and childcare providers. Some of our recent investments include Fundo Baobá in Brazil, Raising Child Care Fund in the US and SHOFCO in Kenya.
Systems: Leaning into the practice of systems thinking, together with the events of 2020, led us to more deeply explore power shifting, an approach we had tested in 2019 through our investments centered around supporting student parents in the US. We found ourselves asking: What are the power dynamics at play? How can we be even more aware of our own power? How might we help strengthen capacity and support leaders closest to the work in harnessing their power? How might we diversify and uplift the voices at the table? As a result, we experimented with exploring different ways to staff governance roles, listening to community opinions on both strategy and investments, and exploring how we can support grassroots advocacy and community-based organizations. We've learned that nurturing deeper relationships requires time and requires us to listen to what our partners have to say.