Exploring the interconnections between one's personal experiences and their work was at the heart of our second fireside chat, which took place on June 16.
During the event, "The Power of Lived Experience to Drive Impact for Learners, Families and Communities," leaders working in the US joined IF's Ashley Beckner to discuss how centering and leading with lived experience can drive authentic, sustainable change for learners.
The conversation included: Michaela Martin, Parent Advisor at Ascend at the Aspen Institute; Nicole Lynn Lewis, Founder & CEO of Generation Hope; and Omo Moses, Founder & CEO of MathTalk. The speakers discussed the importance of better supporting student parents and young families, reaching our littlest learners in under-resourced communities, and valuing and centering the experiences of those impacted the most.
Inspired by his parents' activism on civil rights and access to education, Omo highlighted: "What we do is building off the work of people who came before us and will be continued by future generations." He added that "math is an abundant resource," and he saw his work at MathTalk as "creating resources that can be planted in communities and become rooted and a part of a community's future."
Nicole spoke about how the keys to implementing authentic solutions for student parents are elevating those individuals' stories, listening, and acting upon what's learned. She shared, "There is such a stigma and a silencing of our experiences as student parents. It was important for me to share my story."
And Michaela shared a piece of advice for student parents and others working to balance self-care with their work: "Don't be afraid to be vulnerable. My vulnerability is my power."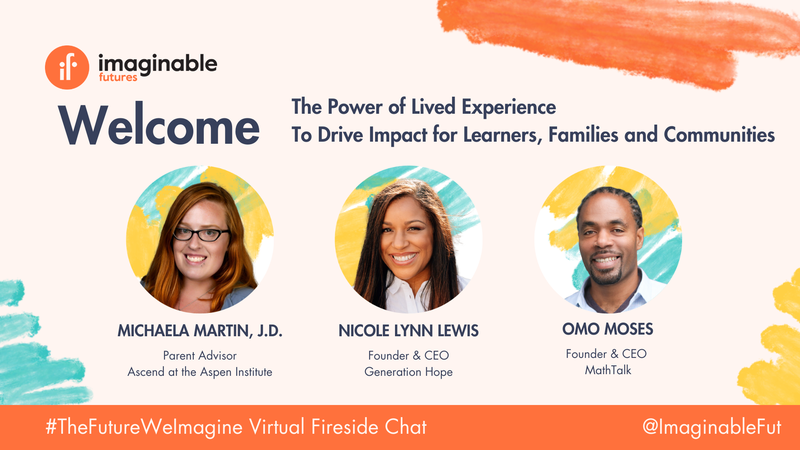 The speakers shared actionable advice for how to value lived experience in practice:
When supporting student parents, it's important to be intentional about seeking out and elevating the expertise of student parents themselves; compensating them for their time, knowledge, and insights; and truly listening and acting upon the learnings that are derived from those conversations.
Community-centered design, or co-designing products and experiences with impacted communities, is an effective way to center people who are in close proximity to the issues and challenges you are working on and, by welcoming children and student parents in as advisors, gain buy-in from those you are working with.
Relationship-building is critical to driving positive change across generations. Change-making draws upon others' work from the past, and helps inspire future generations to continue moving the work forward.
"Let them determine their spoons." Michaela referred to "spoons" as a way to describe the limit of what an individual could handle at once. When working with student parents or other impacted communities, let them decide how they want to be involved and what they are capable of contributing, rather than assuming they are too busy. "If it is something I do want to give my spoons to, I would like to be given that choice, versus being told what I can handle."

Stay Tuned for Future Fireside Events
The event is part of a virtual fireside chat series, where we are exploring different themes to realize brighter, healthier and more equitable futures for learners and their families and communities. Stay tuned for our next chat!