Enabling Access to Learning, Earning and Employment Opportunities
Imaginable Futures invested in Zlto because of its ability to expand possibilities for young people through learning, earning and employment opportunities.
Zlto works with development partners, businesses and community organizations to create verifiable online tasks for young people. They can volunteer in their communities, perform tasks and build their skills, or learn from an array of more than 135 online courses available on the platform. The online courses feature topics, such as how to start a hustle or a small business, find the right job and how to budget. Moreover, the platform can be accessed on any mobile device without requiring internet access. To date, over 1.1 million online courses have been completed on the platform and young people have undertaken 200,000 positive deeds in their communities.
Through their "engage-to-earn" model, youth are rewarded with redeemable digital tokens at more than 3,000 retail stores in South Africa, including Shoprite, Flash Mobile and PEP Group, with retail access to food and electricity vouchers, clothing, homeware, FMCG goods, cellular and airtime products. "Zlto is about dignity; it's not a handout. It's about helping young people get on in life," Allan says.
The platform also enables users to build a digital CV that showcases their experience and skills, reducing barriers to entry for decent jobs, education opportunities and financing. Since its inception in 2015, Zlto has tracked 1 million hours of work by young people and impacted more than 3 million community members.
Through Zlto, we've seen inspiring community initiatives led by young people, including 'Feed the Future for Life,' a community garden started by two brothers, Geronimo and Valentino, during the COVID-19 pandemic, which now provides their community with healthy fruit and vegetables. Others like Yonela founded an organization focused on empowering women from townships and providing them with resources to uplift their communities.
In partnership with the Michael & Susan Dell Foundation, J.P.Morgan, ESquared and UNICEF South Africa, Zlto spearheaded the 12-Week Essentials Campaign. This COVID-19 relief initiative gave 65,000 youth access to food vouchers, electricity tokens and mobile airtime products. Using simple technologies like Whatsapp, young people undertook more than 750,000 nano tasks and micro-courses, earning additional income and online certifications.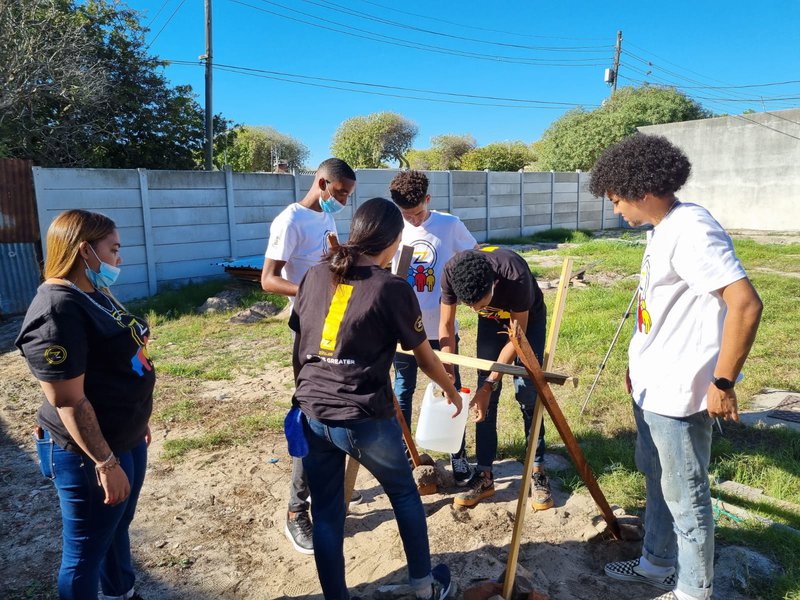 Youth-Centered Partnerships for Impact
Zlto's model points to the enormous potential of partnerships and creating agile institutions that are responsive to the needs of young people in low-resource communities.
Take for instance, Zlto Biz, a digital solution that offers companies and other stakeholders an efficient way to track the impact of their investments using data to make informed decisions about their businesses. Zlto Biz recently partnered with the Innovation and Entrepreneurship Program (IEP), an initiative that supports women and youth entrepreneurs like Shaudaa Samuels from marginalized communities across Cape Town. IEP uses the Zlto Biz platform to track, reward and manage the growth of its small business owners. To date, they have partnered with over 100 organizations supporting youth, 62% of whom are young women.
Zlto is just getting started. The team seeks to expand their reach to 1 million youth by the end of 2022. Their ambitions include scaling their partnership with SAYouth.mobi, a network that enables unemployed youth to access learning and work opportunities, and launching Zlto on Moya Messenger, a mobile messaging app where 6.5 million youth communicate without incurring data costs. Zlto is also partnering with UNICEF to scale Yoma, an online marketplace that provides youth with opportunities to develop skills, engage with their communities and access employment opportunities.
What Inspires Us
We have seen numerous examples of how Zlto successfully connects young people with better opportunities to learn and earn. Zlto is bridging the gap between youth aspirations and the evolving needs of the African labor market, showcasing that technology and innovation can help address the challenge of developing sustainable livelihoods among Africa's young people.
"At Zlto, we want to give young people hope and for them to know that they matter," says Allan. "We understand their challenges and are always here to walk this journey together."
We are incredibly proud to partner and learn alongside Zlto in their bold quest to create spaces for Africa's young people to truly thrive.