During the Great Depression, a massive economic crisis which had unemployment not seen again until the levels we are approaching in our present moment, Franklin Delano Roosevelt, alongside Congress, led the country forward under the framework of the Three Rs – Relief, Recovery, and Reform. The COVID-19 crisis runs much deeper than economics, impacting health in addition to livelihood. Moving through and beyond it will require the leadership, fortitude, and innovative thinking that we have seen burn bright throughout America's history. And this time around, it may require moving beyond reform, to a new R – Reimagining a more prosperous future.
Today, we sit squarely in a period of relief. The government has released trillions of dollars to provide some semblance of stability to the millions of people who have lost their jobs, or some portion of their wages, and to businesses that closed overnight. School has been cancelled for the majority of children in the US, and working families have found themselves suddenly without child care. The impact extends well beyond the US across the world, and we are being forced to face, once again, our global interdependence by a virus that does not respect borders. In the middle of this crisis, it may feel like a luxury to think about the future, but we must. The question isn't when recovery and reimagining will arrive, but rather, what will we do when we get there?
At Imaginable Futures, we imagine a world where every individual has the opportunity and support to build a brighter future for themselves, and for all of us. We invested in Capita late in 2019 because we knew then that we wanted to imagine a different future, particularly for young children and their families. Today, it's even more important.
Capita is an ideas lab and platform that fosters new ideas and encourages informed debate on critical issues that impact children and families. Capita voices new insights and draws from learnings of the past to foster courageous systems change.
A Focus on the Future
Capita has published several ground-breaking reports which push the people who desire to improve life for young children and families to think differently, and more long-term, about how they approach their work. Tomorrow is Now: New Directions for Children's Philanthropy challenges philanthropy on several fronts, including directly confronting extractive systems that pool wealth among a precious few and investigating the root cause of inequities, instead of funding programs that serve as a bandage. It also encourages philanthropy to pay for ideas, funding the organizations and people who generate them. We need new thinking to move us forward, and new ideas may be the most valuable resource we have in this moment.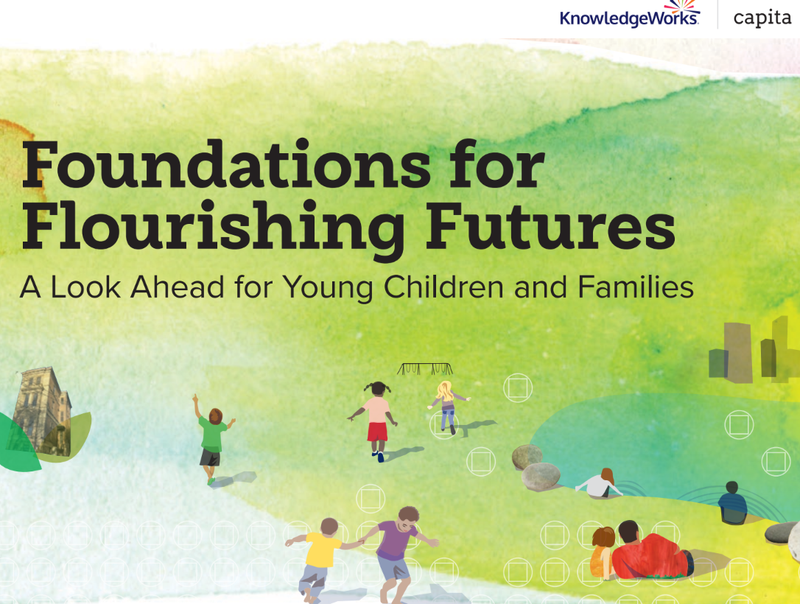 In Foundations for Flourishing Futures: A Look Ahead for Children and Families, Capita, in partnership with KnowledgeWorks asks, "How will the social, economic, political, and technological movements of today reshape the lives of children tomorrow?" The teams uncovered five key themes to guide thinking around this question. When it was published in 2019, they had no idea what was to come in early 2020. Yet their insights are even more relevant.
The forecast looks closely at community health, innovations in children's healthcare and learning, and perhaps most important, the core role of caregiving in our society. COVID-19 forces us to confront an often-invisible workforce of people caring for our loved ones, and in particular for our children. These "frontline heroes" deserve dignity, respect, and compensation commensurate with the essential work that they do every day. The forecast looks at the evolving role of caregivers in our society and presents new opportunities for how we think about and organize care.