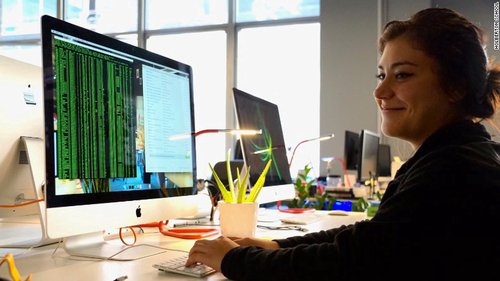 This was the story of Dora Korpar. Dora graduated with a BA in biology from Macalester College in St. Paul, but worked retail at Trader Joe's after graduation. Inspired by a friend who had recently landed a job at Apple, Dora started exploring software engineering and found San Francisco-based Holberton School, which promoted a two-year software engineer training program with no upfront cost until she secured employment. She applied, was admitted, and moved to San Francisco. After nine months of skills training at Holberton, she received a full-time offer from Scality as a software engineer and is currently completing the second year of the Holberton program part-time. She has now meaningfully increased her income, career prospects, and job fulfillment. "It was an eye-opening experience," said Dora, who didn't have prior coding knowledge.
Holberton School is named after Betty Holberton, one of the most famous women software engineers and the original programmer of the first digital electronic computer. Holberton offers training to students to become highly skilled software and operations engineers through project-based and peer learning. Holberton was founded by Julien Barbier and Sylvain Kalache, who previously co-founded while42, the largest French tech engineer network, and worked at Docker and SlideShare/LinkedIn respectively.

There are three main components to increasing return on investment in higher education, and Holberton aims to address all three.
Greater affordability and access
At Holberton, there is no upfront cost for students. Instead, students sign an Income Share Agreement (ISA) for 17 percent of a student's income for 3.5 years, once they achieve a minimum salary of US $40,000. This does not mean education at Holberton is free, but rather that it democratizes access with no credit requirement. Repayment is based on future income, which differs from student loan structures that need to be repaid regardless of income and are increasingly driving students to default on loans.