A Bold and Big Bet
Technology — used appropriately and in the right amounts — in learning can serve as a tool to drive access and equity especially where widening chasms exist in education quality. With this frame and a deep background in evidence-based evaluation, Imagine has set out with both a bold vision and a big bet: to investigate whether children, with research-based curriculum and pedagogy, on tablets in their hands, can become literate and numerate, further providing evidence on whether autonomous learning works for whom, and under what conditions.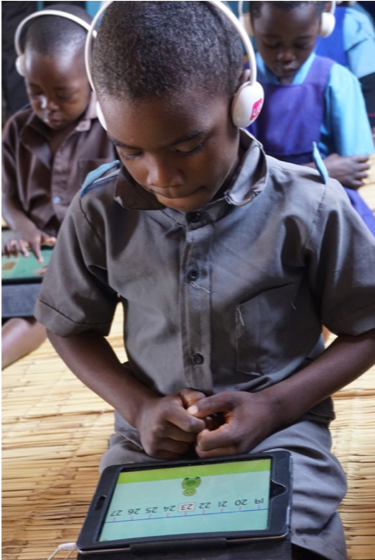 Autonomous learning refers to a student engaging in learning at her own pace where the student takes primary responsibility for her learning and the pace of that learning. In settings such as Malawi, these solutions do not require internet connectivity and can be charged with simple solar powered approaches. Autonomous learning doesn't just support individual students, but provides further assistance to the teacher who remains integral in the learning process. Where most classroom learning relies disproportionately on the teacher — the lesson plans, content, curriculum, administrative tasks, grading, and more — autonomous learning offers a method to unburden the teacher who is then better able to focus on areas such as class facilitation, student engagement, remedial support, and a holistic approach to student development and learning. Moreover, learners who have no access to formal education can have access to quality curriculum and instruction in their hands, with adults and caregivers playing a facilitative role.
In partnership with Voluntary Service Overseas (VSO) (through the Unlocking Talent program) and onebillion, a finalist of the Elon Musk-funded XPRIZE, Imagine will begin pilots in Malawi working with both in-school and out-of-school populations, including children living in refugee camps. Over time, the team will expand their work across new geographies with additional technology and implementation partners utilizing culturally and linguistically relevant content. In doing so, Imagine intends to build evidence on the impact of autonomous learning in achieving critical learning gains, and utilize their learnings to support the improvements and impact of autonomous learning solutions for learners in various locations and environments across the globe. In total, Imagine will execute four pilots over three years, starting with Malawi, and building a portfolio of evidence with thousands of children in school and out of school in different countries.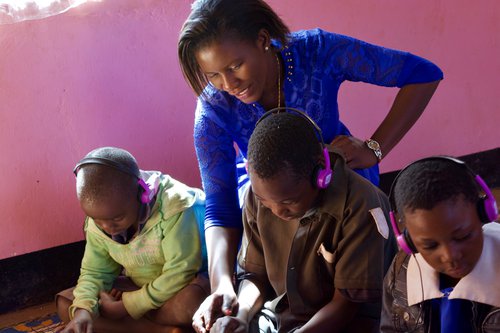 Engaged and Empowered
Seven-year-old Arthur, a learner in Malawi who is enrolled in Unlocking Talent, which uses the onebillion software, shared, "I like it because the children do not mess around…We are learning how to read and write. I like to learn." A head teacher also commented, "This work is important because the students learn so much more. Retention of students goes up and the dropout rates decrease. Learners are more motivated and more confident about their learning. And this is especially important for the girls — to keep them in school and give them full access to literacy and mathematics."
Ultimately, we are encouraged by interventions that ignite a passion for learning, that are inclusive, support both the learner and the adult, and are bolstered by data and evidence.