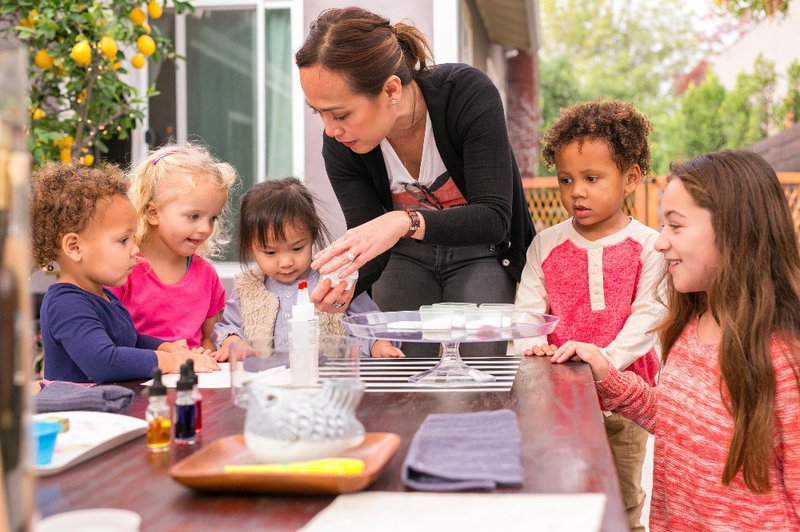 If you're a parent of a young child, searching for the perfect fit for child care can often be a struggle. You want to give your child the opportunity to feel like they are spending their days in their second home within a safe and nurturing learning environment. Little Nest, a home-based child care run by Theresa Marino, a kind and loving 20-year Montessori veteran, is one such home-based program found in a local neighborhood within Los Angeles. Here, children of mixed ages learn and have access to a highly-regarded Montessori pedagogy, supported by well-trained professionals. Little Nest is just one example, and more can be found in homes across the nation — but we need this quality of care and education to happen in many, many more.
Home-Based Child Care: The Most Common Care for Infants and Toddlers
According to the National Survey of Early Care and Education, nearly 4 million caregivers currently offer care to over 7 million children from birth to age five in a home-based setting, far exceeding the number of children cared for in center-based settings (3.8 million). Nearly 30 percent of infants and toddlers receive care in a home-based setting, compared to 12 percent in center-based settings. Half of this home-based care is unpaid and provided by someone that the child knows, such as a grandmother or an uncle. Twenty-five percent of this care is paid but still provided by someone the child knows. These familiar care relationships are often referred to as family, friend, and neighbor care. The remaining 25 percent of care is provided by someone the family does not have a prior relationship with, someone like Theresa at Little Nest.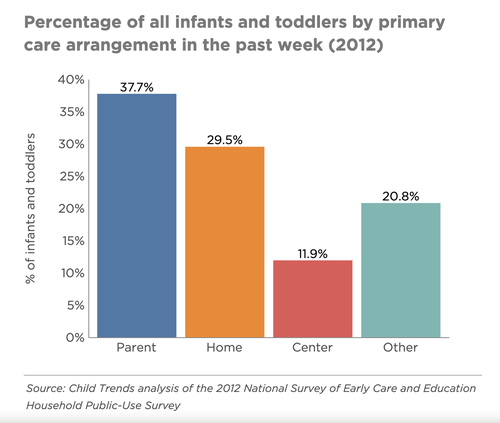 The national conversation around child care often misses the fact that such a large percentage of children are already cared for in home-based settings, particularly very young children and children from families with low income. During these first five years of life, children's brains are developing at a rapid pace, with 85 percent or more of brain development happening before age five. These youngest children are also most in need of supportive, loving, responsive relationships with the adults around them. And for many children (over 60 percent), they spend as much or more time with their secondary caregivers as they do with their parents. But quality options are not easy to find. While two-thirds of young children not in school have two working parents, 83 percent of families report struggling to find affordable, accessible, quality child care.
To increase the supply of quality affordable child care, various solutions are needed. At Omidyar Network, we believe that the best approach is a hybrid system, where a variety of child care arrangements meet the needs of different families; we believe home-based child care plays a critical role in this system. Today, home-based child care is often considered more culturally relevant, cost effective, flexible, and convenient when compared to center-based care. To increase quality overall for all children, we need to embrace various types of care arrangements, which include the diverse models of home-based care from unpaid family, friends, and neighbors to professionals operating child care businesses out of their homes.
Innovation in Child Care: A Changing Landscape of Opportunities
While families have known these pain points and have seen the opportunity that home-based care has offered for a long time, entrepreneurs and innovators are starting to take notice as well. Little Nest is a part of a network of high-quality, in-home child care and preschools called Wonderschool, supported by a software platform and a team that makes it easier for providers to start, fill, and run their in-home programs, and for parents to find vetted child care they love and trust. Early Learning Ventures in Colorado supports child care providers with their business operations, saving them time and money, so that they can focus on children and families. Non-profit organization All Our Kin supports child care providers with training and coaching to improve quality. Innovators like Winnie and CareLulu make it easier for parents to find quality child care in their neighborhoods. Parents can find a provider's licensing history, and compare programs across different factors like curriculum and pricing, along with accessing parent reviews. And Kinside gives employers the opportunity to support their employees with concierge-level support in finding child care, improving the lives of both the employee and their child, but also majorly benefitting the employer when the employee has a stable, trusted child care arrangement.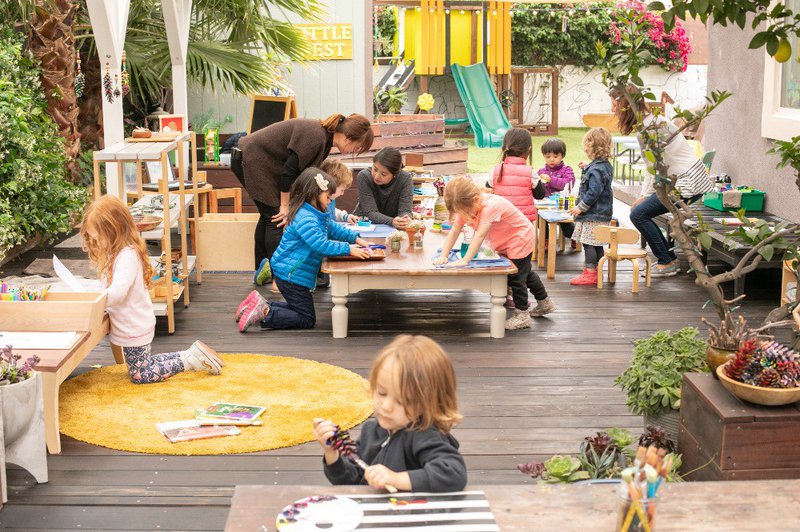 Announcing Home Grown: Investing in Home-Based Child Care for Infants and Toddlers
At Omidyar Network Education, we seek to improve the well-being of children and families, and in particular, aim to positively impact outcomes for children birth to age five. Since two-thirds of children are cared for in child care settings, we are committed to support innovation, elevating our collective imagination about what is possible in this area. With all of this in mind, we are thrilled to join with nine other philanthropic funders to launch Home Grown, a funder collaborative investing in home-based child care for infants and toddlers. This initiative seeks to honor and recognize the value of home-based care and ensure that resources, innovation, and policy development benefit this sector.