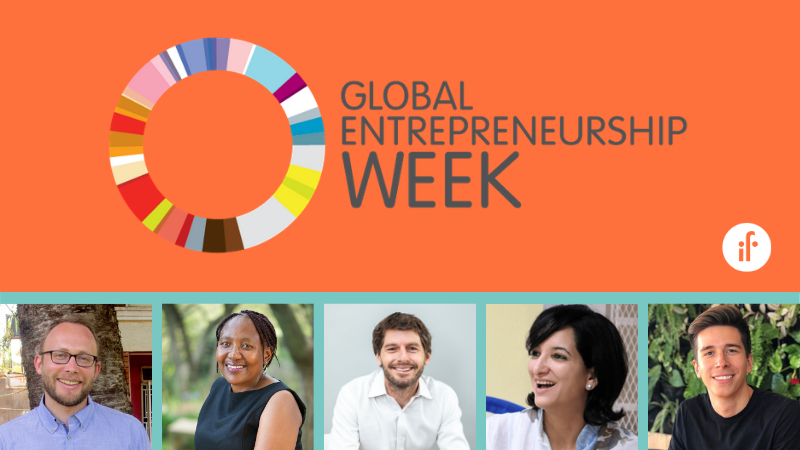 Pictured from left to right are: Boris Bulayev, Educate!; Grace Matlhape, SmartStart; Hudson Baird, PelotonU; Lymichelle Rivera-Negron, Miramelinda Montessori Schools (Wildflower Schools); and Nicolas Gimenez, Blended.

We all know COVID-19 has caused widespread wreckage, including major disruptions in the lives of learners and their families. Yet, the pandemic has also shown the power of innovation and what can happen when communities, educators, families and entrepreneurs come together. During this time, we have seen and heard stories of good-willed and courageous people uniting to ensure learning continues.
To both survive and thrive after the crisis, it is essential that we reimagine learning—with equity at the core. From Brazil to Kenya, South Africa, Argentina and other corners of the world, more edu-preneurs (entrepreneurs in education) are seeding the change that could revolutionize how we learn, as well as who has access to quality learning. They are working relentlessly, in the most uncertain of times, to break down systemic barriers and connect with the hardest-to-reach-learners from marginalized communities.
That is why this Global Entrepreneurship Week, we're celebrating all the brilliant and compassionate edu-preneurs with whom we are grateful to partner. Below we share what motivates a few from our portfolio family to get up each morning and change learning—and the world—for the better.
Question: "What Drives You to Be an Edu-preneur?"
Boris Bulayev, Educate!
Uganda, Rwanda and Kenya
Boris is the CEO and Co-Founder of Educate!, a nonprofit that tackles youth unemployment by partnering with youth, schools and governments to design and deliver solutions that equip young people in Africa with the skills to attain further education, get jobs and drive development in their communities.
"I'm motivated to be an edu-preneur for two reasons.The first is to dramatically change the results youth in Africa can expect from their secondary/post-primary education. I believe the current "product" that youth around the world have is not built for the purposes of today and youth deserve something that's built to their realities, which in the East African context likely means working in the informal economy. It's a grave injustice to pay so much for school and yet not have it be aligned to your employment reality. As part of our commitment to this cause, Educate! is obsessed with measurably impacting youth—something that motivates us all to continue learning and iterating on what we do.
My second is to push a lot further what an impact-oriented organization looks like, and move beyond the very traditional NGO paradigms. I'm most driven by organizational building and seeing our teams adopting world class ways to iteratively build models that measurably impact youth. This has accelerated with the pandemic—in a matter of weeks our teams built our distance learning model and have made progress on virtual boot camps for out-of-school-youth."
Grace Matlhape, SmartStart
Johannesburg, South Africa
Grace is the Founder and CEO of SmartStart, an early learning socal franchise with a network of trained and licensed practitioners who implement evidence-based programs. SmartStart's vision is to give every child the power to succeed. This means ensuring that all South Africa's children can benefit from early learning opportunities.
"As a country we have been largely unsuccessful in reducing the inequality despite relative success in putting progressive policies in place. When I read about the human capital returns of investing in early childhood development, I thought to myself: 'That is exactly what the answer to inequality is!' I am not being naïve with this assertion. I know that our extreme inequality is a result of many different and complex factors, including systematic exclusion, but we can't afford to be immobilised by the complexity. Seeing the resilience and drive of women in South Africa, who are more likely to be unemployed than men, and how they refuse to give up, is a daily inspiration. Early childhood care and education is one such possibility and a priority for our country. Employing women in this field not only helps them and their family, but is for the betterment of society as a whole.
Transformation of our society must start with a generation of children who have an equal start in life, with women who can contribute meaningfully and maximally in the labour force, and with support for microenterprises that are carrying the full burden of providing quality early childhood care and education. That is what inspires me."
Hudson Baird, PelotonU
Texas, United States
Hudson is the Co-founder and Executive Director of PelotonU, a nonprofit that provides a pathway for working adults to earn their college degree, on time and debt-free. At PelotonU, 42% of students are parenting, 60% have tried college before and 72% are first in their family to go to college.
"Public higher education in the United States was once revolutionary. In the 20th century, it offered a roadmap to economic mobility, led to an expansion of the middle class and provided a place where hard work led to opportunity.
I'm motivated because that's not the case anymore. I'm motivated because college requires a student to put the rest of their life on hold, which isn't realistic for 70% of students. I'm motivated because working adults feel stuck in jobs that don't pay enough and can't find their way to a good career. I'm motivated because I benefited from privilege throughout my education and have a responsibility to use that opportunity to support others. I'm motivated because we live in a world with intractable problems, and yet making education more equitable is one we can solve in our generation. And mostly, I'm motivated because the students I serve everyday are my heroes, and I owe them the same commitment and resolve that they bring to their families, their work and their studies."
Lymichelle Rivera-Negron, Miramelinda Montessori Schools (Wildflower Schools)
Massachusetts, United States
Lymichelle is the Founding Head of Miramelinda Montessori School—a school within the Wildflower Schools network—in Cambridge, Massachusetts. Wildflower is a teacher-led, intentionally-diverse network of Montessori micro-school that offer human-scaled, child-centered educational environments as an alternative to traditional, institutional settings.
"Before I came to Wildflower, I was a school psychologist in Puerto Rico. I was always wondering how I could do this differently and help children before they required big interventions. When I heard about Wildflower, I thought: 'Here is my chance.' I started the training in Montessori education while my husband watched our sons and worked nights.
Because the difficulty we had finding an affordable Montessori school tugged at my heart, I started the Alheli school. Eventually, after Hurricane Maria, we chose to move to Massachusetts to follow my dream of starting a bilingual school. I believe language helps us understand culture and diversity in a deeper, more beautiful way. I worked so hard to start Miramelinda Montessori School because I want to give all children a quality education no matter their economic situation. I want to help adults understand children differently. Now that I serve 0 to 3-year-old children, I can see their needs and make a difference immediately. Everyday when I wake up, I am so thankful. Even though the journey was tough—a change of culture, leaving my home with just my tiny family—it was worth it. I would do it all again."
Nicolas Gimenez, Blended
Buenos Aires, Argentina
Nicolas is the CEO and Founder of Blended, a mobile-first communication platform connecting teachers, students and parents in Latin America. Blended fosters parental involvement and provides better information to teachers and students.The communication hub allows schools to integrate their Edtech solutions, while parents can access all relevant information through a simple mobile app.
"Out of more than 150 million school-age kids in Latin America, the World Bank estimates that nearly 55 million will drop out before finishing high school. Considering nearly half of those kids are living in poverty, getting a high school degree is crucial to increasing their chances for a brighter future. Yet, the educational system fails on two key factors that otherwise ensure school completion: getting reliable information on student performance and getting parents involved in their kids' education.
Children who have parents who are more actively involved are more likely to have better scores at school, be more engaged with and motivated in school, have better mental health outcomes and show more sociable behavior.
I was motivated to found Blended because I believe that we can help solve this problem by fostering parental involvement and providing better student information to teachers and parents. That's why we created a communication hub for schools that is really efficient at engaging parents in the learning process."
Also take a moment to learn about our holistic approach when working with entrepreneurs in our community in this blog post from our Managing Partner Amy Klement.