---

Episode Spotlights
Learning to Overcome includes conversations that focus on new approaches, what's worked or hasn't worked, and how the pandemic might reshape the education landscape. Featured guests include (pictured left to right below, in order of podcast appearance): Wendy Kopp, Teach For All; Dr. Joan Osa Oviawe, Edo State Universal Basic Education; Sal Khan, Khan Academy; Iman Lipumba, Ubongo; Robert Jenkins, United Nations Children's Fund; and Leslee Udwin, Think Equal.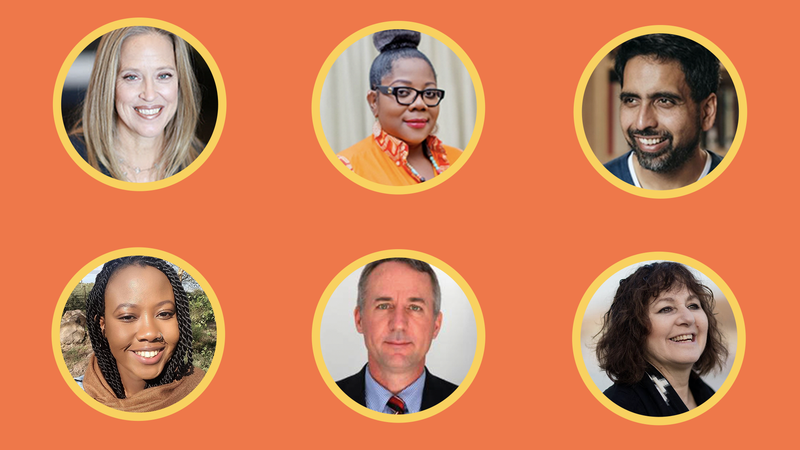 Episode 1: Teaching and Learning Transformed: On the Frontlines of COVID-19
Educators, leaders, and parents globally have the responsibility of what seems like an impossible task: To replicate the functions of school for months without a physical classroom or playground. The importance of local leadership from educators as well as innovation around learning with a focus on equity is paramount. In this episode, we talk to two education leaders about their experience and ideas on how best to manage and ensure at-scale education response and recovery interventions.
Featured guests include:
Wendy Kopp, CEO and Co-founder of Teach For All, a global network of independent organizations that are developing collective leadership to ensure all children have the opportunity to fulfill their potential. Since COVID-19, teachers across the Teach For All network have been innovating alongside parents, teachers and others to ensure that learners, especially those from marginalized communities, don't stop learning.
Dr. Joan Osa Oviawe, Executive Chairperson of Edo State Universal Basic Education Board. EdoBEST is an initiative with the Edo State Government in Nigeria in partnership with Bridge International Academies. During COVID-19, Edo State implemented EdoBEST@Home with Bridge across all their public schools.
---
Episode 2: Class is in Session: Everywhere, Anytime
Release Date: September 28
As learning across the world relies more and more on access to expensive devices and internet connectivity, the education divide deepens. Global, large-scale efforts to use technology in support of remote learning and distance education are emerging and evolving quickly. During COVID-19 and beyond, it is essential to leverage technology that will enable high quality, flexible learning pathways that place equity at its core. In this episode, we talk to two digital content innovators to hear what they are seeing, doing and predicting across the globe. They share their thoughts on how to facilitate these learning opportunities across borders, and what anytime and anyplace learning looks like.
Featured guests include:
Sal Khan, Founder and CEO of Khan Academy, which creates free apps, videos and interactive experiences that supplement traditional learning in the US and around the world. Since the pandemic, Khan Academy has released daily remote learning schedules for students ages 2 to 18, as well as several remote learning guides for parents, teachers, schools and districts.
Iman Lipumba, Head of Marketing and Communications at Ubongo, an edutainment platform for children ages 3-14 across Africa. With COVID-19, Ubongo has launched more than 10 new broadcasters and expanded to four new countries: Cote d'Ivoire, DR Congo, Cameroon and Gambia.
---
Episode 3: Academics Aren't Enough: Nurturing Social-Emotional Learning in Homes and Classrooms
Release Date: October 5
Students around the world are facing increased mental health challenges as they continue to deal with isolation related to the lack of structure, routine and connection to community, as well as the stress of the economic fallout of COVID-19 felt by households everywhere. While many educators are focusing on getting the academics right with online learning, equally important is social-emotional learning across all age groups. In this episode, we speak to two topic experts to discuss how we can support students' mental well-being and nurture social emotional development during this global pandemic.
Our featured guests include:
Robert Jenkins, Chief of Education at the United Nations Children's Fund (UNICEF), an agency of the United Nations that is responsible for providing humanitarian and developmental aid to children worldwide. Robert shares UNICEF's strategies on how to "open up better," and addresses well-being challenges that children face such as vulnerabilities, social protection issues and resilience.
Leslee Udwin, Founder and CEO of Think Equal, a global education initiative that calls for a system change in education to end the discriminatory mindset and cycle of violence across our world; and for governments and education ministers to adopt its tangible free program mediating all aspects of experiential social and emotional learning for children aged 3-6.
---