The current state of child care in the United States has been described as
market failure
or the
most broken business
in America. Before the pandemic, child care was
unaffordable for most families
, costing more than rent or college tuition, while child care workers, who are disproportionately women of color, made
poverty-level wages
.
In the absence of a robust public investment in child care infrastructure, families have had to navigate a patchwork of care options on their own, with their struggles unfolding in private. The flood of decades of previously isolated stories prompted by the pandemic's impact on the child care sector underscored a powerful realization for many parents and caregivers: We are not alone.
Ashley Beckner of Imaginable Futures sat down with Stephanie Wittels Wachs, Chief Creative Officer and Co-Founder of Lemonada Media (Lemonada) to discuss No One is Coming to Save Us, a podcast about child care in the United States.
By blending data-driven research and personal storytelling over the course of multiple episodes, podcasts have the ability to bridge the gap between personal experience and systemic issues, digging deeper into the issues that shape our lives and impact our communities. That is why Imaginable Futures is proud to support season two of No One is Coming to Save Us. (This conversation has been edited for length and clarity.)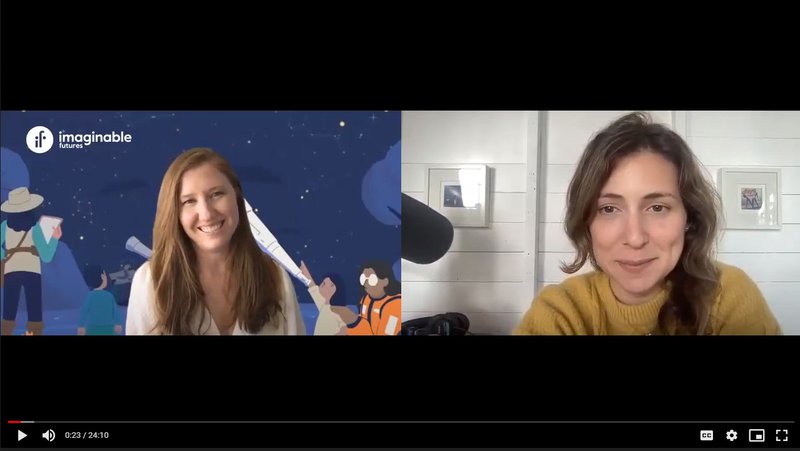 Ashley Beckner, Imaginable Futures (AB): We are really excited to be supporting season two of No One is Coming to Save Us. What sparked Lemonada's interest in launching the first season?
Stephanie Wittels Wachs (SWW): Suffering, truly. At the time when COVID happened, I had an 18-month old and a five-year old, and I was working full-time, and my husband was working full time. I remember thinking, "Two weeks, we can't not go to school for two weeks. What are we going to do?" And then that kept turning into longer and longer and longer. I'm sitting at home, reading [The New York Times series] "The Primal Scream," and hearing all these stories and not really knowing how any of this would be sustainable.
Around the same time, Neighborhood Villages, an early care and education advocacy organization, reached out to us and asked, "Hey. We want to do a podcast like Last Day for child care. Can you help us with this?" We were all in. Lemonada likes to talk about things that feel really hard and that feel like there are no solutions. We just don't accept that around here – we always want to find solutions. Sometimes the solution is just knowing that you're not alone. And sometimes it's like, call your representatives. That's why we did the show. The audience was incredibly engaged because we're all having this shared experience. It was a perfect time to do it.
AB: What did you learn about America's child care system from season one? What was your biggest learning?
SWW: It's honestly hard to pick out one. Doing the show really hammered home that we are truly an outlier – a country that has no systematized universal child care, parental leave, or assistance for working parents is an anomaly. It's disheartening to see, but also sort of uplifting in a way because you realize that the onus is not squarely on you. This is a systems problem, not a personal problem. Another is the idea that universal and affordable child care can be done on a local level. We don't have to wait for the federal government to decide to prioritize children and families. That was really empowering. I think that's what brought so many parents to the podcast and why they want more.
AB: Why did you think it was important to continue this conversation?
SWW: We're still in it, right? Gloria Riviera, the host, said this so beautifully in season one: COVID brought us to our knees. We saw the cracks that had been there were now like canyons and we can't go back. We can no longer accept the broken system. We need a new system. We need to be creating a child care system in America that functions more like K-12 education, where there's federal funding and where there's support and structure.
We cannot just say to parents of children ages zero to five: "You're on your own; we'll see you in kindergarten." It's deranged! Ages zero to three are critical to set children up for success later in life. We've decided there's too much to grapple with, so we're not going to just do four episodes in season two. We're going to do 45 episodes and it's going to be weekly, which we're excited about.
AB: Given your background and work in podcasting, how do you think about podcasts as a tool to help support this narrative and create change?
SWW: We made Last Day because I had a personal journey. I wanted to know what I could have done differently as the sister, the best friend, the family member of somebody struggling with opioid use disorder. My brother died in 2015 of an overdose. We did all the things that I knew to do, and it was not enough.
To this day, we get emails, phone calls and direct messages from people saying: "Your show saved my life. Your show saved my person's life." I had a conversation just a week ago with a woman who is dealing with it with her husband, and she said, "I needed a manual and the show gave me the manual." That's an incredibly empowering thing that audio can do. It's like reading a textbook, but a really entertaining one, and you can put it in your ear. You're learning and you're feeling community with the host. You're feeling like this person has lived my experience. It's a really intimate art form. You can allow yourself to be vulnerable in a way that a lot of other mediums don't allow you to be.