By collecting and analyzing data on student competencies and gaps, edtech platforms like Geekie's enable teachers to target their instruction more efficiently and effectively. Geekie's founder and CEO Claudio Sassaki says, "My biggest learning working with Geekie is that our technology is most powerful in the hands of teachers. If we help teachers do their job better, more efficiently, with more information, they are the superheroes that can really improve the quality of education in this country."
Another example is SPARK Schools, a low-cost independent school network from South Africa that attracts low- and middle-income families. SPARK Schools is finding success through their "blended learning" model that combines traditional classroom teaching with technology to extend the opportunity for their students to practice, inquire, and learn at their own pace. They have been able to deliver this quality education at about $1,500 USD per student per year, the same as what the government spends at public schools.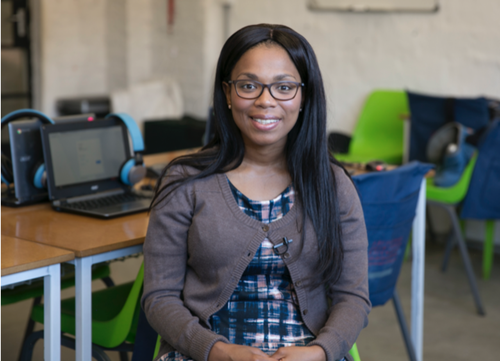 Deone Billings, the principal at SPARK Maboneng, shared how their blended learning model supports teachers: "In a mainstream classroom, you're either achieving and moving with the classroom, or you get left behind …. We offer personalized learning. We know where our scholars are, and we know where the gaps are and daily we are supporting scholars to address those gaps."
Myth 2: Edtech is isolating children and has limited educational value
We have come a long way since the highly criticized "One Laptop per Child" that helped shape perceptions about students sitting alone, watching screens with limited educational content. While digital media has progressed since then, concerns linger that technology promotes isolation and has limited educational value.
True, technology in the classroom means students spend a portion of their school day independently working. Thankfully, we are now much better informed by years of research about what makes good pedagogy and sound instruction and that is integrated within the best blended and tech-based learning programs. We know that there is robust evidence regarding project-based learning (PBL) and how collaboration between students on multidisciplinary projects can help improve mastery of content and 21st century competencies. There is now additional evidence that integrating technology to power PBL boosts learning outcomes across income, racial, and ethnic lines.
Akshara Foundation, a nonprofit organization in India that leverages offline and online education solutions for the underserved, is a great example of a project-based learning approach powered by a technology backbone. Akshara's Ganitha Kalika Andolana (GKA) is a technology-enabled math program targeted to primary school students (grades 1–5) that provides an activity-based curriculum with real-world cases and collaborative learning materials aimed at developing critical math skills required to progress to middle schools. Akshara has already reached more than 1 million children across multiple states in India through partnerships with the local government.