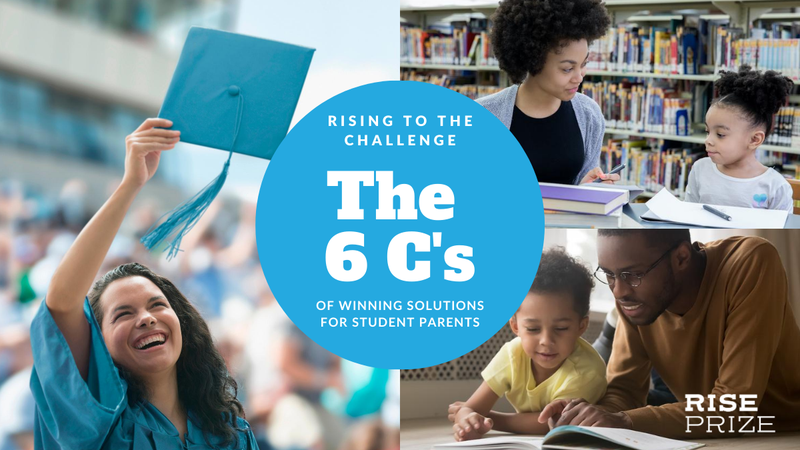 Earlier this month, Imaginable Futures and Lumina Foundation announced the 15 winners of the Rise Prize, the first of its kind competition to spur innovation and advance promising solutions that address the specific needs of student parents to succeed in postsecondary. Developed in partnership with 10 leading organizations working to promote equity in higher education, the Rise Prize awarded over $1.5 million to edtech companies, higher education institutions and nonprofit programs to seed their inspiring ideas and scale solutions to have greater impact.
Out of more than 300 applications, 26 finalists were selected and paired with an expert advisor before pitching their proposal to a panel of seven judges, which included two student parents. Too often, well-meaning efforts to improve equity in higher education are not informed by the insights of those students that programs and policies aim to support.
The Rise Prize was structured to not only give student parents a voice in the process, but also power: the student parent judges solely awarded the $100,000 Risers' Choice prize to College Unbound, a bachelor's degree program designed for working and parenting adults, in acknowledgment of how well the program centered the needs of student parents. "[I]t is an extraordinary program showcasing the strengths of our student parent community," said judge and student parent Lesley Del Rio, who also serves as an Ascend Parent Advisor, on why they selected the program as Risers' Choice. "It empowers us to succeed."
The other 14 winning solutions embodied the 6 C's for improving the success of student parents:
Child care. The staggering cost of child care facing all parents has been well-documented, especially as the coronavirus decimates already limited affordable child care options. For student parents, access to affordable and reliable child care can significantly increase graduation rates, with some studies showing that it can triple graduation rates among single mothers in college. Despite a recent budget increase to Child Care Access Means Parents in Schools (CCAMPIS), the only federal program that aims to increase access to child care for student parents, the program still only meets about 1% of demand.
Winning solutions from Bristol Community College and Everett Community College include additional support to expand access to child care for students in their programs.
Community of support. Student parents often feel isolated and alone as they navigate systems that largely do not recognize they exist. This was true before COVID-19 shut down campuses, but has been even more pronounced as student parents now must add even more to their already difficult juggling act. Mentoring, community-building coaching, mental health services and peer learning and support can provide crucial social capital that encourages students to continue and complete their degree programs. As COVID-19 challenges the traditional, in-person ways in which schools build communities, it is critical to find new tools and methods for providing virtual support.
American Indian College Fund's "Ina wa wounspe pi" (Mothers who are learning), Morehouse College's Fathers to the Finish Line, Family Scholar House, Prison University Project, and Jeremiah Program for single mothers all aim to provide peer support, coaching, and other services targeted to student parents with similar experiences and backgrounds. Tools like BestFit and ASU's Sunnybot aim to make it easier to find needed support and access services.
Completion time. One study found that students with young children had half as much time as childless students to dedicate to schoolwork, sleeping, eating, and leisure activities. Another study found that single mothers who attend school full-time spend 9 hours per day—more than the typical full-time work day—just on care and housework. These estimates were from before COVID-19 closed schools and child care centers, adding more strain to parents' time.
Rivet School, formerly Concourse Education, provides an accredited BA in 2-3 years at $10,000, drastically reducing the time and financial demands of getting a bachelor's degree.
Convenience first. With limited time even before the pandemic, student parents need programs with more flexibility to fit learning into their schedule and greater access to high-quality virtual, digital and online education programs. As many student parents find themselves responsible for their children's schooling as well as their own, this flexibility will help parents persist in their studies through the pandemic and beyond.
Cell-Ed's 1M Parent Learner Challenge allows student parents to receive skills-based learning on any device, even without an internet connection. Everett Community College developed its "Weekend College for Parents" to better fit the realities of student parents' lives, while ASU's SunnyBot chatbot connects student parents with resources and support tailored to their needs when they need it.
Cost. This year, the student loan debt crisis reached $1.6 trillion and debt for student parents is two-and-a-half times higher compared with non-parenting students. Financial burden is the number one reason college students stop out of school. One study found that net price calculators, which aim to demystify the costs of attending college, do not adequately take into account student parents' expenses. In California, for instance, a student parent with one child will pay $7,592 more to attend college than a fellow student without children, even after accounting for child care and food costs.
Rise Prize winners FutureGrad by Yenko, a financial aid eligibility platform, and Edquity, which provides emergency cash grants and social services referrals for students, will help student parents secure more of the aid they need to continue school.
Credential connected to a career. Before COVID-19 shifted how many of us work and learn, rapid technological change was already reshaping employment in the future of work. It is essential that the credentials student parents work toward will lead to a lasting career that offers economic mobility and well-being, especially during this era of uncertainty.
Women's Foundation of Southern Arizona's Pathways program specifically works with single mothers to connect them with career and technical education programs that prepare participants for in-demand jobs, while Family Scholar House provides career development and connection to apprenticeships and job opportunities along with wrap-around supports like child care to help student parents find lifelong career paths.
Over the next few weeks, we will be highlighting stories of how the Rise Prize winners are putting the 6 C's into action. Follow @ImaginableFut for the latest updates.