What does integrating justice, equity, diversity and inclusion (JEDI) look like in different geographic contexts? And how can philanthropic organizations better meet the needs of their partners through listening, collaboration and developing trust? These were some of the questions explored during our latest fireside chat, which took place on June 28.
During the event, "Sustaining An Ongoing Commitment to Justice, Equity, Diversity and Inclusion Through Active Collaboration," leaders working in the US, Tanzania and Brazil joined IF's Enyi Okebugwu to discuss how implicit and explicit biases rooted in racism and systems of oppression impact learners. Panelists also offered their thoughts on how funders can implement structural changes into their work to better support their partners.
The conversation featured Ellen da Silva, Co-Founder and Director of Training at Mahin Consultoria Antirracista, Ronald Kimambo, Learning and Evaluation Officer of Firelight Foundation, and Vance Lewis, Associate Partner of Promise Venture Studio. The panelists, who are also IF partners, opened the discussion by sharing stories from their career paths and citing key moments in their upbringing as sources of motivation for advancing equity. From there, they shared insights and learnings from their own work and geographic contexts.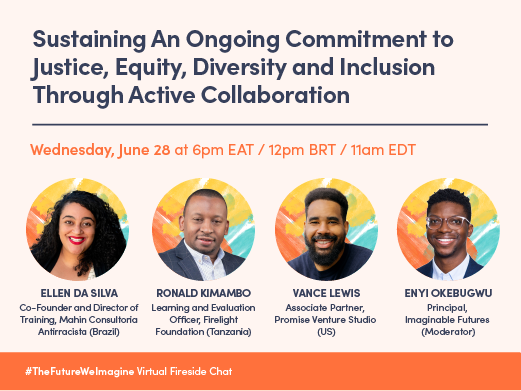 Strategies Shared: Supporting Diverse Leadership, Being Responsive Funders, Leveraging Coalition Building Tools and More
Vance provided insight into the barriers that Black, Indigenous, People of Color (POC)-led organizations must overcome in order to help communities. Citing his organization's recent interviews with leaders of color in the US: "92% of foundation leaders are white — this creates barriers for POC organizations to access funding, which consistently leaves them underfunded." Vance also shared that grant applications can often be "time-consuming," and that grants can come with "unrealistic expectations and timelines," which take from the valuable time that organizations could devote to their missions.
When asked what it means to be a funder, Ronald responded, "Funding means being responsive. As an intermediary, we try to remove barriers and increase access to resources for our partners." He highlighted three strategies that his organization uses to ensure they listen to and address their partners' self-identified needs: 1). Work hand-in-hand with our community based organizations (CBOs) to set the agenda together 2. Invest in shifting power to the communities to help them develop self-determination, which is necessary for creating sustainable change; and 3. Create networking opportunities and encourage participation.
Ellen added her perspective on leveraging advocacy and coalition building tools to advance racial equity in Brazil. In a country where the myth of a "racial democracy"still persists, and many continue to deny the existence of racism, Mahin's work involves bringing the existence of racial discrimination and inequities to the front of people's minds. "We do it with training sessions about how racism works in Brazil and we produce technical documents to support our claims. We convince authorities and bring forth knowledge of the past decade from others in our coalition. We build the bridge and do it with respect to our ancestors while making it urgent because we don't have time — our children's education is suffering."
Tips on Prioritizing Self-Care
The conversation ended with Q&A. Recognizing the mental and emotional toll that this line of work can take, one audience member asked for strategies on how to practice self-care:
Vance leaned into finding joy in daily life and work: "None of us are served by the work if we're drained, so it's important to make sure we're doing self-care and community care. I maintain strength knowing I come from a long line; and I know my ancestors fought and found happiness. I know what my role is. Lean into joy, particularly in communities. We need to highlight Black joy - and know that this will help create change."
Ronald highlighted the importance of support systems and celebration: "Celebrate little successes because it can rejuvenate you. Find networks and systems of support. Successes are what keep us going."
Ellen was candid with the audience: "My mental health is affected, always. This is something I'm working on. On my best days, I try to celebrate with our safe network. I have people I call on difficult days, and on other days we celebrate the beauty of our Black and Indigenous community. We created so much in culture and music and I look forward to what we can create in science and technology."A full recording of the event is available to watch. The event is part of our The Future We Imagine virtual fireside chat series, where we are explore different themes to realize brighter, healthier, and more equitable futures for learners and their families and communities.