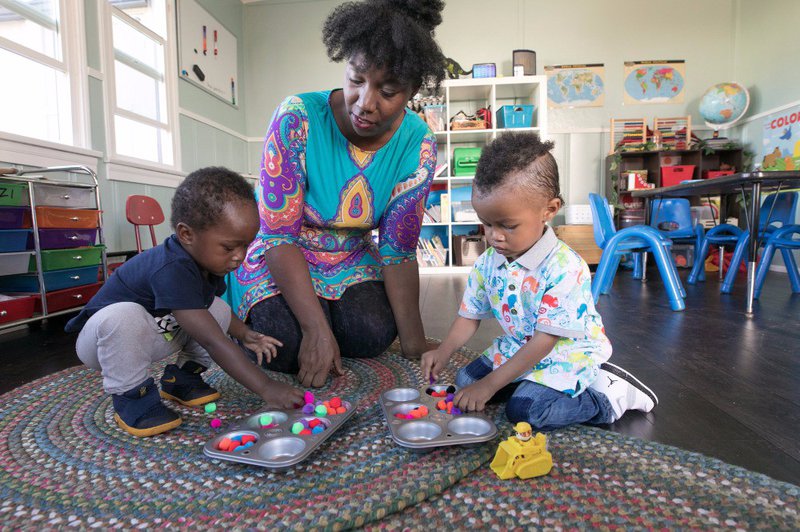 One of the best parts about working and investing in the education sector is having the privilege to meet and connect with educators who dedicate their lives to developing future generations.
A few months ago, we had the opportunity to meet one of those inspiring educators, Sherie Cigar-James. Sherie received her Master's Degree in Education Leadership and Instructional Studies in 2010. She had experience as a student teacher, substitute teacher, coach, and volunteer at various schools in the LA area. As the mother of five and inspired by her two-year-old son, Sherie decided to open a preschool out of her home in Inglewood, California. As a first-time business owner, there were many factors to consider. What should she charge? How would she get the word out? How could she ensure that she could serve all families in her neighborhood who wanted to attend her preschool, including those who had access to childcare subsidies? And how could she deliver the best possible education and development to the children in her care? To answer all of these questions and more, Sherie turned to Wonderschool.
Wonderschool's mission is to ensure that every child has access to a home away from home that helps them to realize their full potential. Wonderschool is working with experienced educators to help them start their own childcares and preschools out of their homes. Wonderschool provides assistance with licensing, program setup, marketing, billing, planning, taxes, and accounting. By reducing overhead, Wonderschool helps free educators for greater quality and lower cost to families. Wonderschool also provides a community for childcare educators to share best practices and increase connections among providers.
The company has built an online marketplace for parents to search for Wonderschool programs, schedule visits, enroll their children, and make payments. By doing so, they are able to increase utilization of programs and thereby the incomes of the educators, which ultimately increases job satisfaction and long-term sustainability of these preschools and childcares.
In a majority of US families, all of the adults work. Less than one-in-three children today have a full-time, stay-at-home parent. The other two-thirds require some type of care arrangement. With such a huge need, there would ideally be a supply of affordable and quality childcare solutions. According to the National Survey of Early Care and Education, there are only 118,000 listed home-based childcare providers serving about 750,000 children age birth to five, which is massively insufficient relative to the 21 million children ages birth to five in the US. According to a survey of Parents readers who use child care, 84 percent reported that finding affordable, quality care is either a challenge, very hard, or impossible.
Even when parents can find a care arrangement for their children, they aren't always the highest quality. Child Care Aware of America scores each state on quality early care delivery every two years and most states receive failing grades. Home-based childcare providers are facing the challenge of delivering quality learning for young children, while successfully operating a small business.
In order to meet the needs of families and children during this period of critical brain development that sets the foundation for a child's future flourishing, we need to ensure that Sherie and more people like her are both attracted to the early childhood field and are given the tools and support systems to be inspired by the profession and provide quality care and education. As technology changes the entire world around us, we can take the best knowledge and innovation, use it to support our educators and caregivers, and in turn support the youngest learners that they serve.
Wonderschool is enabling educators to start, expand, and successfully run early childhood programs in their homes in a sustainable way and is reducing the administrative burden that distracts them from doing what they do best. By optimizing enrollment and increasing quality of care, Wonderschool also allows for increased income for providers. The company is also facilitating the development of networks of caregivers, freeing them from isolation and creating a community of practice that allows for the best ideas developed within these programs run by professional educators to spread. When we talked to Wonderschool teachers, we heard a recurring theme about the value of being part of its network. Running any business can be lonely, but running one without any other adults around can exacerbate that loneliness. As a member of the Wonderschool network, they are part of a community of colleagues who are all inspired by the same goal — providing high-quality care and education for young children.
Wonderschool is expanding rapidly with more than 140 early childhood programs in its network in California. Currently, Wonderschool has partnered with 14 programs in Greater New York City and plans to expand to 150 Greater New York City partner programs by the end of 2018.
At Omidyar Network, we don't see technology as a replacement for the relationship between child and caregiver, but are excited by the potential for technology platforms to enable stronger, more stable relationships. By reducing the administrative burden and marketplace friction, increasing provider income, and facilitating a network of high-quality providers, Wonderschool is changing the way we think about the structure of the childcare industry and early childhood workforce and ensuring that more people like Sherie can provide a strong foundation for our youngest learners. As Sherie rightly said, "Each child has a unique gift to share. It is up to us to discover, foster, and develop those gifts."