Nowhere in the world are children more central to global economic prosperity than in Africa, where they account for almost half of all inhabitants.
Despite significant progress in education, more than a third of African children are out of school, and those that do have access to school are too often in overcrowded classrooms, with up to 120 students per teacher. These challenges indicate that innovation and disruption are needed, and the answer can't be more of the same.
With this context in mind, we invested in Imagine Worldwide in 2018. We wanted to learn: could a tech-enabled, self-paced approach to learning effectively drive positive learning outcomes? And if it does, what would it take to scale this approach to more learners, especially those on the periphery of formal education systems?
Our partnership with Imagine coincided with a pandemic that changed the world in significant and profound ways, especially with regard to how and where we learn. Rising COVID-19 infections, school disruptions and increasing economic pressures on families have only exacerbated pre-existing learning challenges. And as our systems grappled with addressing the effects of the pandemic, the need for innovative solutions like Imagine became even more urgent.
Online learning solutions have slowly emerged in recent years to accelerate learning across the continent. We have seen Imagine Worldwide distinguish itself by providing digital solutions for foundational learning that are offline, bringing equitable and quality learning to millions of children currently without connectivity. Imagine is able to provide essential digital learning tools through partnerships with software providers (including onebillion and KitKit to date), hardware providers and on-the-ground organizations in remote communities.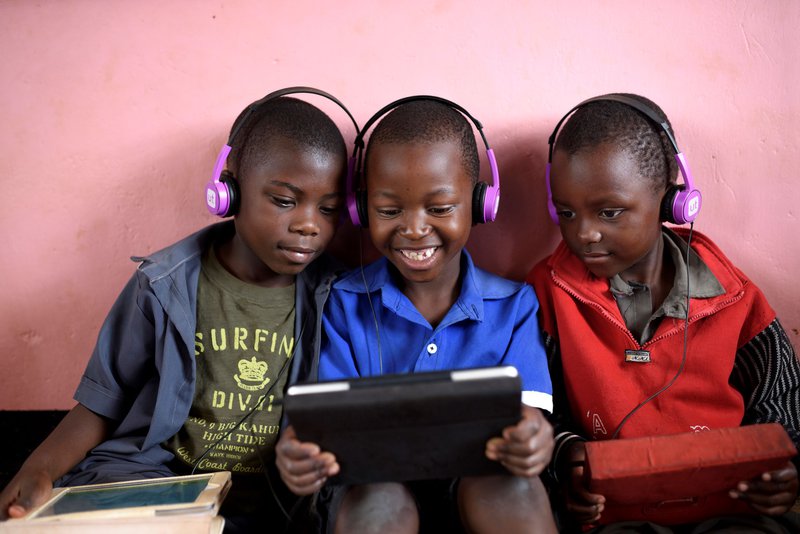 Photo credit: Jjumba Martin for Imagine Worldwide
Here are three key ways Imagine successfully met the needs of learners during the pandemic and helped strengthen local learning ecosystems.
Building the evidence base for tech-enabled, self-paced and engaging learning. Since inception, the team has conducted a series of experiments using different methods—from randomized controlled trials (RCT) to descriptive research—to assess effectiveness of their approach on learners from different contexts, including those who are in-school, out-of-school or in refugee settings (both emergency and stable).
Imagine's recently concluded 2-year efficacy Randomized Controlled Trial (RCT) in government primary schools in Malawi found that despite COVID-related school closures, their learning solution produced statistically significant impact on literacy and math. Results showed that the intervention produced more than four months of additional literacy learning, even after 13 months of disrupted schooling due to COVID, and 72% attained emergent or fluent mathematics status. Fifty percent more children advanced on national literacy benchmarks and, importantly, girls and boys had similar positive results. We see these outcomes as very encouraging with significant future potential as Imagine feeds learning back to software providers to enable iterative improvement.