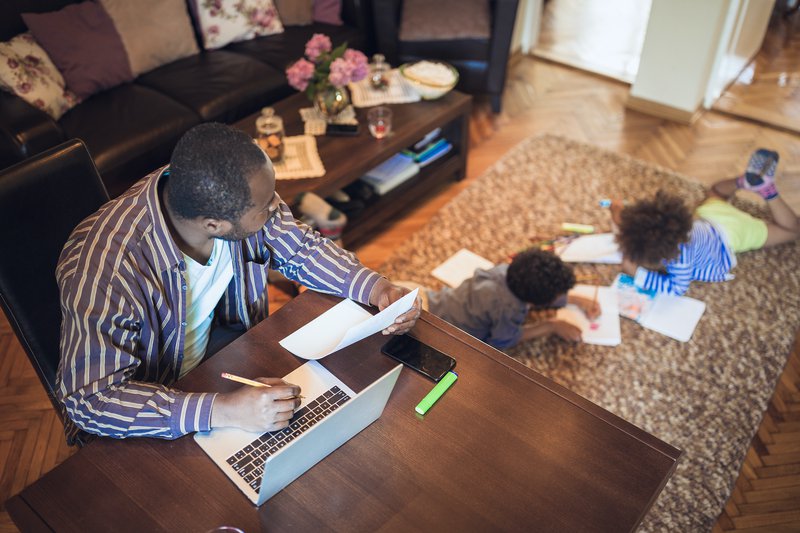 From more than 300 applicants to
26 finalists
to
15 winners
, the
Rise Prize
, created by
Imaginable Futures
and
Lumina Foundation
, along with 10 leading
partners
, invested $1.55 million to spark ideas and scale solutions addressing the needs of student parents — Risers.
The solutions addressed the barriers faced uniquely by Risers following the 6 C's framework of supporting student parent success: child care, cost, credential connected to career, completion time, convenience and community of support.
That last C—community of support—particularly motivated Morehouse College to create its Fathers to the Finish Line (F2FL) Initiative after a viral photo highlighted the need for more support for student fathers on campus. While most of the country's four million student parents are mothers, more than one million men are also balancing parenthood while in college.
Student parents are disproportionately more likely to be students of color—more than one in five Black men in college are fathers, for instance—and less likely to graduate than students without children. Limited access to affordable child care and mounting time and financial demands often stand between student parents and the degree that can lead to higher lifetime earnings and greater wellbeing.
Morehouse College, the world's only HBCU (Historically Black College and University) for men, developed the F2FL Initiative to help student fathers complete their degree. In July, they won the Rising Star award from the Rise Prize, which provided $50,000 to help seed and grow the program beginning with the upcoming school year.
We asked the team behind Morehouse College's F2FL Initiative to share the inspiration behind their program and their experience participating in the Rise Prize. They shared their insights with us below.
What inspired you to develop the Fathers to the Finish Line Initiative? When and how did the idea for the program take shape?
The F2FL Initiative was inspired by a viral photograph that made national headlines. In the photograph, Dr. Nathan Alexander, professor of mathematics at Morehouse College, was holding Assata Hayer, the daughter of Dr. Alexander's student, Wayne Hayer. Mr. Hayer had a choice that day: To not attend class due to the unavailability of childcare or to take his daughter to class and not miss critical instruction for an upcoming exam. When Mr. Hayer brought Assata to class, Dr. Alexander made a choice, helping to change the perception of fathering in college for many students like Mr. Hayer. Morehouse College embraces its students (and their families). This experience has shed more light on the needs of student parents and, hence, sparked thoughts about the F2FL Initiative.
Tell us a bit more about the Fathers to the Finish Line Initiative — What is included in the program and how can students sign up to participate?
F2FL will help to reduce the barriers that student fathers face, which in turn will allow them to focus their attention on academic progress and success, financial stability and ultimately graduation, all the while being a guiding and present force in the lives of their children. Access to systems that reduce the barriers of student parents is what undergirds the F2FL platform, as student parents decide between child care, employment, transportation and even sleep over attending classes or studying for an exam. Student parents who have made the critical decision to pursue a postsecondary degree will be supported by various micro-interventions that deliver wrap-around student services, including academic support, mentorship, professional development, leadership training, co-curricular engagement and access to financial resources that will help to bridge gaps between enrollment or not, between consuming a meal or not, and between having all of the academic resources or not. Additionally, student parents will have access to mental health and wellness services that support their ability to engage in social-emotional learning. Fathers will be invited to submit initial applications that will start the process for services.
What was participating in the Rise Prize competition like? How did the process inform your final pitch/presentation?
Participating in the Rise Prize competition was a seamless learning experience. The application process really forged the need to think outside of the box when considering opportunities for student parents; and quite frankly, it is not every day that opportunities geared specifically towards student parents arise. The "build-out" of the F2FL Initiative concept was very intriguing and provided insight on how student parents' needs differ from those of non-student parents.
After submitting the initial proposal, an advisor was assigned to the F2FL team to help prepare for the final presentation to the judges. Brian Fleming, Vice President, Innovation and Strategy at Southern New Hampshire University, was an excellent resource and provided very thoughtful feedback and guidance that allowed Morehouse College to 'polish and prune' its application. Every piece of advice from Mr. Fleming was incorporated into the final application submission. In the final pitch, having only five minutes to engage the judges meant that the most crucial high-level points had to be shared. This process required us to be succinct, yet effective in expressing the importance of the F2FL Initiative and its expected impact on fathers at Morehouse College.
How will the Rise Prize Rising Star investment help you implement or grow the program?
The Rise Prize – Rising Star investment will be integral in launching the F2FL Initiative at Morehouse College this fall. Student parents will reap benefits in the form of financial support, as well as leadership and professional development experiences that will pave the way for their futures, while also promoting the futures of their children and families. The investment has the potential to impact generations.
The COVID-19 pandemic has created a lot of uncertainty around higher education and the next school year. Is your program working to meet the needs of student fathers as learning and many campus services shift online? How?
Morehouse College has adopted a fully virtual mode of instruction for the fall semester 2020. Considering the challenges that individuals and families are facing throughout the nation and world, the F2FL Initiative will be available virtually for student parents as the new academic year commences. Due to the pandemic and transitioning learning and services online, we're still trying to determine how to effectively provide these supports to our students virtually, but we are committed to supporting student fathers during this uncertain time. Even virtually, failure is still not an option, and plans are being implemented to ensure that all students, including dads, have the resources to achieve success!