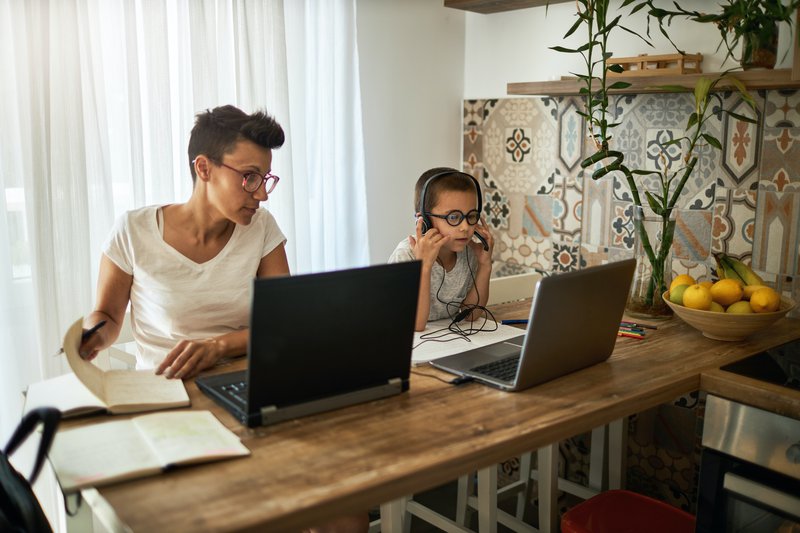 Swift and vast technological change has been reshaping the future of work for the past several decades. Although automation and new technologies open up promising possibilities for innovation, early employment trends at the dawn of this new era raise concerns that the economic benefits of an increasing digitized workforce could exacerbate existing inequities, especially for
women
,
people of color
, and
workers without a college degree
.
The rapidly expanding technology sector will add many high-paying jobs to the economy, especially in middle-skill roles that require postsecondary education or training but not a bachelor's degree. But women and people of color are finding themselves locked out of these in-demand jobs. Women, for instance, are more likely than men to work in jobs that require digital skills, such as bookkeeping, administrative work, accounting and more. However, they find themselves at most-risk of being replaced by automation. In addition, among high-paying tech jobs, women are significantly underrepresented and face an earnings gap of 41% compared to men for the same digital skills.
In addition to gender and racial gaps of the U.S. labor market, limited social capital is part of the barrier to breaking into tech for women and people of color: Up to 85% of all jobs are filled through networking. Today, these inequities are being compounded by the COVID-19 pandemic, which has further skewed the employment picture as a lopsided economic recovery continues to exacerbate economic inequities.
These converging trends present twin challenges for realizing a more equitable future of work post-pandemic: expanding access to education and training programs for students from underserved backgrounds and developing their social capital that will help them secure high quality job opportunities that pay well.
Career Karma Gives Learners the Tools and the Community They Need to Succeed
At the nexus of these trends sits Career Karma, a career navigation platform that matches individuals with technology bootcamps or training programs and, most importantly, connects these individuals to a community of peers, mentors and coaches. Founded in 2018 by CEO Ruben Harris and his two partners, Artur and Timur Meyster, Career Karma aims to solve the problem of inequitable distribution of social capital, while giving users better access to information that can help them successfully discover and navigate different career pathways.
The idea for Career Karma grew out of Ruben's own experience as a Black man navigating a career shift from investment banking in Chicago to startups in Silicon Valley. He realized that many people were interested in tech jobs but did not have the information or connections to access this field. Career Karma is a practical extension of his highly successful blog and podcast, Breaking Into Startups.
"We had to go through a bunch of hoops to figure out how to get jobs in tech that didn't require just training," Ruben told the Powederkeg podcast last year. "We built Career Karma as a product we wish we had when we were trying to break into tech."
Career Karma's marketplace matches learners to bootcamps that provide training on coding, data analytics, cyber security and other in-demand tech skills. Their partnerships with bootcamps allow Career Karma to keep its platform free for users. What differentiates Career Karma's approach is its emphasis on building social capital—developing an engaged and diverse user base as a result—and serving users throughout their entire career journey, from training to job placement and, eventually, career success.
Key to Career Karma's strategy are "squads," which connect users with like-minded peers in the Career Karma network. Squads bring together people from similar backgrounds and identities in the same stage of their career transition. Users work with others to bond over shared interests, address common challenges, and hold each other accountable throughout the entire process, from applying to a bootcamp through finding a job.
This approach seems to be working. In the last year, the company attracted more than 870,000 monthly users to its platform and helped over 3,000 users get accepted into job training programs.
A Promising Model for Student Parents
We invested in Career Karma because it is a promising model that helps learners access middle-to-high skill tech jobs, many of whom are women, students of color and student parents. For a company with an explicit aim to democratize access to tech roles, its biggest accomplishment may be the diversity of its users. Women represent over 40% of Career Karma users and 60% of users are ages 25-44. Considering that women hold just 24% of jobs in programming, Career Karma is developing a needed pipeline of diverse talent that the tech industry has struggled to create itself. One Career Karma bootcamp partner told us that Career Karma "delivers more diverse students, across gender, socioeconomic background and race than any other channel."
The pillars of the Career Karma platform, including access to information and peer support, are also essential components of programs that we have found to best support student parents. These students, who represent nearly one in four undergraduates in the United States, are often motivated to return to school so they can secure jobs that pay enough to support their families, but are more likely to have lower incomes than non-parenting students and lack the social capital necessary to navigate unfamiliar education-to-career pathways.
Disproportionately women and people of color, student parents are also the exact group that we should be supporting if we want to ensure that the future of work is more equitable than the past or present. Their ability to find fulfilling and sustainable careers not only affects them, but also their children: a $3,000 increase in parental income has been shown to lead to a 17% increase in their children's future earnings.
But information and community are hard for student parents to come by. In 2018, Imaginable Futures and Entangled Solutions found that parents are often unaware of the variety of career pathways that can offer them economic mobility, while a recent survey by Generation Hope, an Imaginable Futures investee, found that 40% of student parents felt isolated as a parenting student on their college campus.