In recognition of Imaginable Futures' third anniversary, this report aims to share insight on how our continuous learning journey with partners in Kenya, South Africa, Brazil and the United States has informed our approach to measuring and defining impact in the context of philanthropic investing.
When Imaginable Futures spun out of Omidyar Network in 2020, the great majority of our work was investing in for-profit and nonprofit entrepreneurs who were working on the edge of innovation to create social change. It was always our intention to refresh our strategies as an independent organization, which we did in the context of COVID and increased political polarization, racial tensions and violence across many parts of the world. Given the complexity of the areas in which we work, we used a systems approach to create our strategies.
This process reinforced that a narrower focus on innovation, scale and entrepreneurship — while certainly impactful — was not sufficient for the deeper system change we aspire to achieve. As we've shifted from a primarily venture-based social impact model to a systems change model, much has changed, from our approaches to our tools (e.g., funding community-driven research and grassroots advocacy) to our processes to our culture and more. Importantly, this has led us to think about and define "impact" differently.
We know that quantitative data is important for tracking progress and identifying gaps, and we also know that not everything that matters can be measured quantitatively. Part of striving to create healthier, more equitable systems is pushing ourselves to consider more ways of knowing as key indicators of change, and it is critical that we value stories, personal experiences and other qualitative data that help us understand how systems are changing.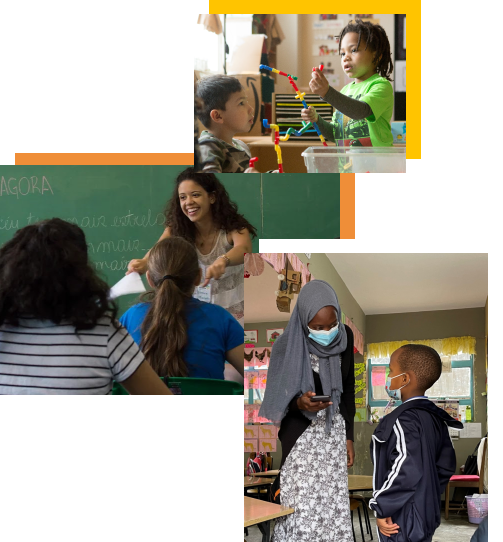 Photo by Allison Shelley /
The Verbatim Agency for EDUimages
To sustain truly transformative change, like the kind that learners deserve, communities must have a say in defining what impact and success really mean for them. And by listening to and learning alongside our partners, we've been able to more effectively sense change in the system, allowing us to be more responsive to the needs of the systems we work within.
While we can learn a lot in a year, systems change is a long-term process. It takes time for shifts in the system to emerge and take shape. So while this report shines a light on learnings that have emerged from Imaginable Futures' work alongside partners over the course of the year, the work doesn't stop here. We are constantly learning, evolving and growing as we aim to ensure that all learners, families and communities can thrive in a changing and interdependent world.